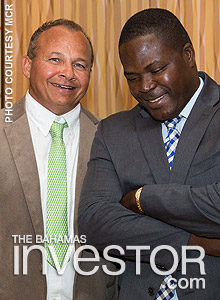 Pictured: Mario Carey (left) chats with Minister for Investments Khaalis Rolle during the launch of Better Homes and Gardens MCR Bahamas Group at Summer Palace April 11. (Photos courtesy MCR)
MCR Realty has become part of Better Homes and Gardens Real Estate – a US real estate agent with around 20 per cent of the North American market.
The deal was announced at a luncheon in Nassau April 11.
"Change takes courage," said Sherry Chris, CEO of Better Homes and Gardens. "Better Homes and Gardens has been around for nearly 100 years and is a trusted brand. Transitioning from being a staple in the home to handling homes through real estate was a natural expansion of a trusted brand and we like to think of ourselves as the Apple of the real estate market. We are very excited about this partnership with Mario Carey and MCR and pleased to be in a country as beautiful as The Bahamas where it is all about the lifestyle."

MCR will change its branding to the green and white of Better Homes and Gardens Real Estate, changing the name of the firm, adjusting how listings show and introducing a new website.
"I first heard Sherry speak at a real estate convention in Las Vegas in 2014," said Mario Carey, founder and president of MCR. "I was very impressed. We started talking and we have been talking ever since. Today, that talk culminates in a partnership and one that I believe will make a significant difference in how real estate is handled in The Bahamas for a long time to come, exposing unique properties and islands and lifestyle to a database of millions of people across the world who trust the Better Homes and Gardens brand and all that it stands for."
Among those present for announcement were Minister of Investments in the Office of the Prime Minister Khaalis Rolle, president of The Pointe Daniel Liu and RBC senior vice president, sales, for the Caribbean Tim Rider.
The Pointe and RBC co-sponsored the lunch.
RBC's presence is part of its increasing role in residential mortgages and the real estate space. American Embassy deputy chief of mission and several members of the diplomatic corps were also in attendance.
"As MCR and Better Homes and Gardens Real Estate grow together, I hope it also gives greater credence to my long-held belief that real estate is the third pillar of the Bahamian economy," said Carey.
"It does not matter whether it is a starter home or a luxury residence in a gated community, home ownership represents ownership in a nation and helps to pave the way for the growth and future of that nation."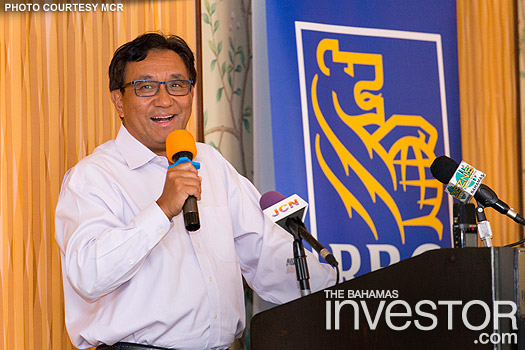 Pictured: Daniel Liu, Sr vice president, CCA and president The Pointe speaks at a luncheon launch at Summer Palace of Better Homes and Gardens Real Estate MCR Bahamas Group April 11. (Photos courtesy MCR)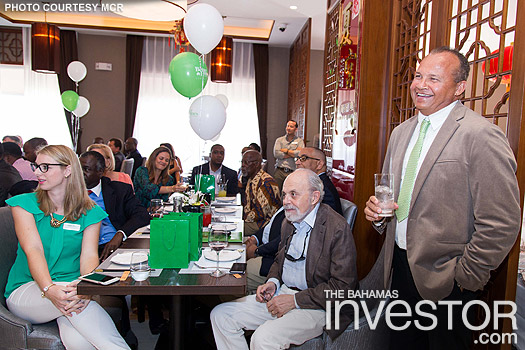 Pictured: Mario Carey (right) with guests at the luncheon at Summer Palace. (Photos courtesy MCR)