Real estate broker Mario Carey announced this week that he has launched a full-fledged property management division that includes commercial property management.
The move is an expansion of a residential property management company launched in 2013 and headed by Tina Bain.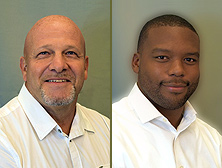 The new team of experts backed by office support staff includes managing director Bain, experienced hospitality industry professional Holger Amman (left) and office administrator Livingston Brown (right).
"Each brings a unique talent and skill and together they have more than half a century of expertise," Carey said.
"Looking toward the future, I believe professional property management with highly personalized service will be one of the most important benefits a full-services real estate firm can provide because the single most valuable resource in the world, the only resource that can never be renewed or replaced, is time," adds Carey. "And retaining professionals to manage property relieves the homeowner or business owner of so many burdens, freeing them to do other things. It saves time, headaches, and brings knowledge and expertise to the job. In a world filled with stress, having someone else manage your property is a great anti-stress measure."
The property management division falls under the MCR Group umbrella which includes appraisals, residential, commercial and industrial leasing and short term luxury vacation rentals. Real estate listings are handled under Carey's Better Homes & Gardens Real Estate franchise, a brand that reaches 40 million homes a week across North America.
"We are excited about the introduction a professional property management division," said Carey. "It is important for our current and future clients to appreciate that for their own happiness and well-being that someone else can look after their property so that they own their home or business premises, they do not need to let that home or business own them. We would hope that the closing of a transaction is just the start of an ongoing relationship."