Source:
Date:
Updated:

Caribbean Journal
Thursday, April 21, 2016
Thursday, April 21, 2016

A major new project in the Exuma chain of the Bahamas is moving forward.
The $200 million Children's Cay project is the brainchild of Dona Bertarelli, of one of the world's wealthiest families, and is the result of a heads of agreement signed earlier this year.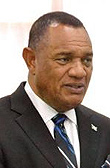 The project is planned as an "eco-friendly ultra-luxury resort project," according to Bahamas Prime Minister Perry Christie (pictured).
It will be located on the islands of Williams Cay and Children's Bay Cay.
Christie said the plan is to "rejuvenate this northern seafaring settlement into a vibrant coastal town."
The project will include a 50-room five-star resort on Children's Bay Cay, with a private resort and 18-hole Tom Fazio Golf Course on Williams Cay.
This is an excerpt from Caribbean Journal as it appeared on April 21, 2016. For updates or to read the current version of this post in its entirety, please click here.

Continue reading this post >