The One Eleuthera Foundation (OEF) successfully hosted its first Health and Wellness Symposium on Eleuthera in conjunction with major sponsors, such as the Cancer Society of Eleuthera and Family Medicine Center, to promote health and wellness on the island.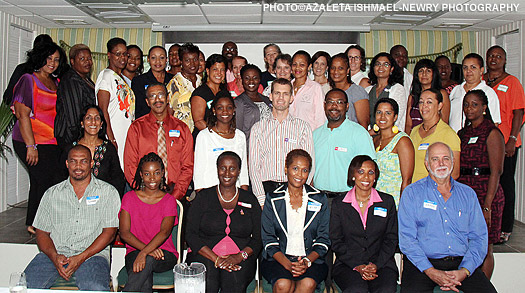 Participants and presenters at the symposium. (Photo by Azaleta Ishmael-Newry)
"The One Eleuthera Foundation and our partners have committed to help strengthen the health care sector for Eleuthera and also focus on the wellness of the people. This initiative is one of the strategic projects that reflects our mission," said Craig Symonette, chairman of the One Eleuthera Foundation.
The three-day symposium, which was held last weekend, was themed Pathway to Wellness–Reversing the Trends.

The event was well received by the Ministry of Health, medical doctors, nurses, and leaders from the private and public sectors. Attendees included local, national and international participants, as well as partners from The Bahamas National Trust and Island School.
The announcement of the latest findings regarding breast cancer in Bahamian women and discussions on non-communicable diseases and how to reverse recent health trends were highlighted.
The weekend began with a welcome reception and overview of the symposium's purpose and premise by One Eleuthera Foundation chief executive officer and director, Shaun Ingraham.
"The goal of the OEF and our partners in addressing health and wellness issues is to become a catalyst for positive health and wellness transformation, locally and nationally," he said.
Over the three days, attendees were received statistics on the health of Bahamians, as well as information on holistic health and wellness.
The weekend symposium ended with the early morning Walk 4A Cure, which was held in Tarpum Bay.