The government of The Bahamas and Bahamas Fast Ferries are in discussions on the startup of a service that will connect Grand Bahama, Abaco, Eleuthera and New Providence.
Prime Minister Perry Christie was in Grand Bahama August 16 to meet with chairman of Bahamas Fast Ferries Craig Symonette, to discuss the project.
Christie and Symonette visited the site along with Transport and Aviation Minister Glenys Hanna Martin; Tourism Minister Obie Wilchcombe; Minister for Grand Bahama Michael Darville; Education Minister Jerome Fitzgerald; and Khaalis Rolle, Minister of State for Investment in the Office of the Prime Minister.

Chairman Symonette told the media that his company intends to establish "a local port, but eventually lead to the opening up of the northeast Bahamas. By that I mean direct service to Sandy Point, Abaco; North Eleuthera and by opening up that quadrangle, we would open up the tourist facilities and the transmission of industrial progress."
He described the project as a visionary one and told the Prime Minister and his delegation that his company looks forward to working with the government on the initiative.
Symonette said his company will submit architectural drawings of the project to the government and that he looks forward to working with the Ministry of Transport "to develop what I envisage to be a future Port Authority/government/private sector cooperative development like we have seen on Arawak Cay, and I am sure other projects to come in The Bahamas."
The project will see passengers and cargo being taken to Sandy Point, Abaco with a quick turnaround and onto North Eleuthera and then Nassau.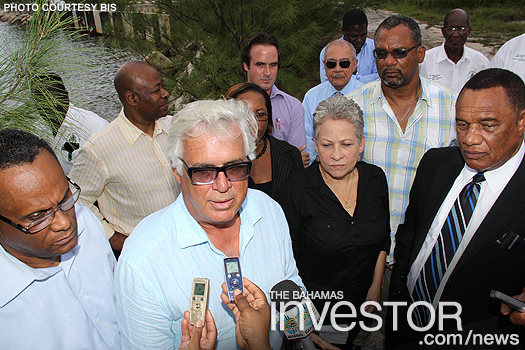 Pictured: Bahamas Fast Ferry chairman Craig Symonette announces the project, Grand Bahama August 16. From left, front row: Michael Darville, Minister for Grand Bahama; Symonette; Glennys Hanna-Martin, Minister for Transport and Aviation, and Prime Minister Christie. Second row from left: Tourism Minister Obie Wilchcombe; Senator Tenisha Tynes; Cameron Symonette; Baltron Bethel; and Jerome Fitzgerald, Minister for Education, Science and Technology. (Photo courtesy Bahamas Information Services)