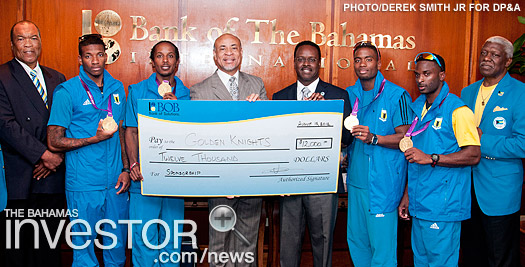 Pictured (from left): Wellington Miller, president of the Bahamas Olympic Committee; Demetrius Pinder; Chris Brown; Vaughn Delaney, deputy managing director BOB; Daniel Johnson, Minister of Youth, Sports & Culture; Michael Matthieu; Ramon Miller; and Mike Sands, president BAAA. (Photo by Derek Smith Jr for DP&A)
Fresh off their win in the men's 4×400 m relay in the 2012 Olympics in London, the four Bahamian athletes–dubbed the Golden Knights–met representatives of their team sponsor, Bank of The Bahamas (BOB), yesterday in Nassau.

"You made an entire nation proud," said BOB deputy managing director Vaughn Delaney.
Gold medalists Chris Brown, Ramon Miller, Demetrius Pinder and Michael Matthieu were accompanied by Bahamas Association of Athletic Associations (BAAA's) president Mike Sands and first vice president Shervin Stuart.
Minister of Youth, Sports and Culture Daniel Johnson was also present.
BOB presented the winning quartet with a sponsorship cheque for $12,000.
On August 10, the team ran the relay in 2:56:72, setting a new national record and winning gold.