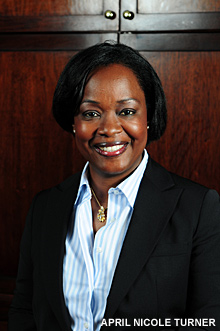 Aliya Allen, chief executive officer and executive director of the Bahamas Financial Services Board (BFSB), has announced that an independent Blue Ribbon Panel has named April Nicole Turner as the Financial Services Industry's Executive of the Year April Nicole Turner.
A partner of the law firm of McKinney, Bancroft & Hughes, April Turner also serves as chief operating officer at affiliate MB&H Corporate Services Ltd–a licensee under the Financial and Corporate Service Providers Act.
In submitting the nomination, her colleagues say that Turner has demonstrated a keen understanding of the trends and challenges in the financial services industry, both locally and globally and this has allowed her to develop a vision for the future growth of MB&H that reflects the dynamic and innovative nature of the industry.

Under her leadership, the business model of MB&H has been modified to exploit the opportunities of the changing landscape of financial services and to ensure that the company has remained competitive with local and international service providers.
BFSB will recognize the executive at a Gala Awards Banquet November 9, at the Sheraton Nassau Beach Resort. Awards will also be presented in five other categories: Professional of the Year, Mentor of the Year, Achiever of the Year, FSI Development & Promotion, and Student of the Year.