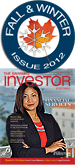 At 31 years old and a chief executive, Aliya Allen doesn't believe in "frittering away" opportunities. "We have to be very aggressive and quite purposeful in the way we move forward," says the third and youngest chief executive officer to head the 14-year-old Bahamas Financial Services Board (BFSB)–the quasi-government agency charged with promoting the nation's second largest industry as the offshore financial jurisdiction of choice.
That go-getter mentality is a hallmark of Allen's professional life. A graduate of the University of Buckingham in London, Allen was called to the English and Bahamas Bars. Allen began her law career in 2003, working for her father, veteran politician Algernon Allen, at his law firm Allen & Co. She spent nearly a year at the firm before moving on. "I had to spread my wings," she says. 
In 2004, she joined the Attorney General's Office in Civil Litigation and Chambers. She moved on to Graham, Thompson & Co in 2007 as an associate and was quickly promoted to partner in the financial services practice of the firm in 2010. At the time, she was the youngest partner in the firm's 60-year history.
"Some companies in other countries have people in their boardroom who are my age and no one bats an eye. In some Latin American countries the average age of a CEO is early 40s. Here it might be 50 or 60," says Allen, "I think that people are recognizing that your age does not preclude you from being a capable person. I wouldn't discount the experience that comes with age, but I do think that it gives you a different perspective coming from a different generation."
New face of the BFSB
Allen began her tenure as BFSB's new CEO and executive director January 1, 2012. Her appointment followed the resignation last September of her predecessor, Wendy Warren. Warren was appointed BFSB head on February 1, 2001, when she replaced Barry Malcolm, who had accepted a post in Freeport with the Grand Bahama Port Authority.
In announcing Allen as the new face of BFSB last November, the board's chairman, Paul Winder, underscored the importance of identifying a leader with relevant experience in the financial services industry coupled with strong interpersonal skills. "We are delighted that Aliya will be joining BFSB and feel strongly that she will provide the management skills and industry experience that are required to keep BFSB at the forefront of industry developments both internationally and domestically," he said at the time. "Aliya combines an exceptionally high level of insight and knowledge of our industry with a solid 'real world' grasp of the special challenges–and opportunities–facing us at this critical time."
Allen's legal career, said Winder, provided her with "considerable experience and expertise in a variety of key areas within our industry." Although Allen got her proverbial "feet wet" in law during her pupilage at Allen & Co, it was her time spent at the AG's office that provided her with a "broad based exposure" to law. "The work was diverse," she explains.
"You are not necessarily focused on one thing. You get requests for advice from every single government department."
It was at Graham Thompson where she got her first taste of financial services, working principally in the areas of commercial and corporate law. "That's where I started to develop a passion for the financial services field and the professionals in it. I think this is one of those fields that calls for creativity and a real passion that many professionals in the industry possess."
Her practice at the law firm covered trust and estate planning, investment funds, securities, foundations and insurance. Whether working on a major financial institution's pension trust arrangements, or preparing a complex shareholders agreement for an international mining company involved in a local joint venture, Allen says she remained "intellectually curious" during her time at Graham Thompson. Perhaps, it's that trait, coupled with a strong work ethic, which helped her to make partner in three years.
"When I went there I said to the managing partner, Judith Whitehead, that I was there to act as a sponge, to learn, and that I was intellectually curious. I think people underestimate the power of intellectual curiosity," says Allen. "There are people who have natural ability to do a number of things, but it's that sort of driving curiosity, constantly questioning, constantly trying to figure out how to solve a problem, is what takes you far in law."
Impeccable pedigree
Allen comes from a family of high achievers. Aside from being an attorney, her father, Algernon, served as a Cabinet Minister under Prime Minister Hubert Ingraham. Allen's mother, Anita, holds one of the highest offices in the judiciary. In 2010, she was appointed president of the Court of Appeal after having served as Senior Justice in the Supreme Court since 2005.
"I think there's always pressure to shine when you come from a family where your parents have had stellar careers; my father in politics and my mother in law. There's always that feeling that you can't let down the home front; that there's something bigger than you that you're working towards, your family legacy, which is a very powerful thing," admits Allen, the third of five children.
"I'm sure that has been part of the reason why I work hard; you want to make sure that what you are doing is building upon a legacy and not tearing it down, or causing it to stagnate."
Allen's parents have proven to be a great resource for different reasons. "My dad is an exceptionally good speaker. He is diplomatic and gregarious. He has a very unique and a very compassionate view. I think that's important," says Allen. "My mother is an incredibly hard worker."
Setting goals
Although Allen assumed her top post only months ago, she's no stranger to the BFSB, having served as a member on three of the board's working groups, including the one responsible for input into the new Executive Entity Bill, 2010. Once enacted, the law will establish the legal framework of the "executive entity," a new financial service product authorized to carry out executive functions in wealth preservation structures.
Allen has also sat on other BFSB working groups–one focused on funds, the other on foundations. Prior to her appointment, she travelled as part of a BFSB delegation, addressing audiences in Toronto and Brazil on trusts
and foundations.
"The BFSB, for many years, spent a lot of time on strategy and looking to where business is coming from. Clearly you cannot deny the emergence of Brazil and some of the Latin American countries. You can't deny the powerhouse that is China," says Allen.
"We're still obviously working on our strategy and refining it, but I think BFSB is now in the mode of capitalizing on and promoting our advantages." 
Allen adds: "In the short to medium term, I think we really need to put in some legwork to raise our visibility and promote the things that we've done."
Late last year, the government brought to Parliament 15 bills related to the financial service industry (see pg 38). In addition to ensuring that the industry is a well regulated one, the bills sought to facilitate the growth, development and general well being of the sector, according to former Attorney General and Minister of Legal Affairs, John Delaney.
"We made changes almost across all platforms. These are incredible fine-tunings of The Bahamas toolkit that have been taking place. These changes weren't made in a vacuum," says Allen, who believes as a financial service jurisdiction The Bahamas has always kept its finger on the pulse of the market. "It's time to go the market and tell them what we've done. The Bahamas has always been able to be very responsive and progressive in its attitude towards legislation while still being responsible. I think that's key. Being responsible doesn't straitjacket our innovation."