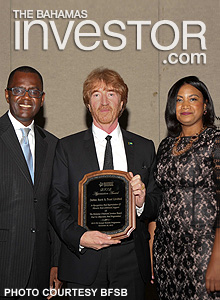 Pictured: (from left) BFSB chairman Prince Rahming; Jean Chalopin, chairman of the Deltec International Group; and former CEO Aliya Allen. (Photo courtesy BFSB)
The Bahamas Financial Services Board has recognised Deltec Bank & Trust Ltd with its 2015 BFSB Appreciation Award.
Former BFSB CEO Aliya Allen says the award was introduced in 2014 as a means of showing appreciation to member firms that have made outstanding contribution to the organization.
"In recent years, and particularly in 2015, Deltec has sponsored and participated in virtually every event in BFSB's external communications and marketing calendar. This has included our signature Landfall events as well as international conferences where Deltec has helped promote The Bahamas Advantage brand. We are delighted to present the award this year to a member firm that has shown such tremendous support for our programme of work."

Deltec is an independent full-service financial services group with a wealth planning and investment platform that delivers bespoke solutions to meet the unique needs of its clients. Headquartered in The Bahamas, the Deltec group of companies includes Deltec Bank & Trust Ltd, Deltec Fund Services Ltd and Deltec Investment Advisers Ltd.