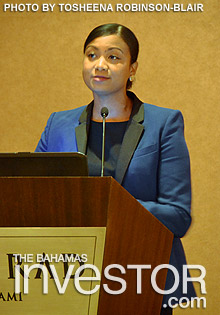 Pictured: Aliya Allen, the CEO and executive director of BFSB speaking at a recent event in Miami. (Photo©Dupuch/Tosheena Robinson-Blair)
Innovation is key to The Bahamas' success in targetting emerging markets in Latin America, according to chief executive officer of the Bahamas Financial Services Board (BFSB) Aliya Allen, who said the financial services sector would soon launch a new investment fund product that would help it position itself as a leading hub for LatAm.
By 2016, emerging markets will account for 37 per cent of global millionaire wealth, according to the McKinsey Global Private Banking Survey 2013 (Download attached PDF).
In order to snag a share of this growth, Allen suggested that The Bahamas needs to focus on innovation, flexibility and sustainability. She said the BFSB made significant progress last year with its series of Landfall events in Latin America, particularly those in Brazil where the board has been "extremely active in the insurance space" and wanted to "exploit that connection to launch other products."

"We want to ensure The Bahamas is a 'talkable' brand," she told attendees of Accountants Week held at the Sheraton Nassau Beach Resort this week. "We want to exploit the word of mouth potential in Latin America."
The BFSB is planning more Landfall events next year–including one in Mexico–and hopes this shift towards emerging markets will help The Bahamas broaden its portfolio against the backdrop of heightened scrutiny from global economic bodies such as the G20 and the Organization for Economic Cooperation and Development (OECD).
Allen called the changing landscape of financial services "a new world order" characterized by increased regulatory burdens and rigorous standards in transparency.
"With this new world order comes new opportunities for The Bahamas," she said. "The battle for Latin America is heating up. It sparked a turf war on a global scale. There is a race on and that race is to position your centre as the hub for Latin America."
Allen said the LatAm region was benefitting from a growing population of ultra-high-net-worth individuals and called it "lower hanging fruit than Asia"–pointing to its proximity to The Bahamas, and the fact that the region "is used to taking advantage of safe havens like The Bahamas" due to its history of financial instability and security concerns.
Accountants Week is organized by The Bahamas Institute of Chartered Accountants (BICA) and runs November 11-15. Topics discussed during the four days of seminars and presentations included tax reform, the FATCA legislation, trade agreements and legislative changes.
cmorris@dupuch.com