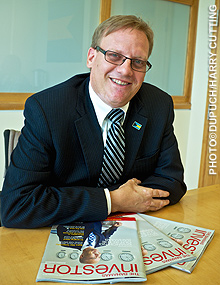 Minister of Financial Services and Investments Ryan Pinder poses with the latest issue of The Bahamas Investor magazine. His ministry took 1,000 copies of the publication on a three-city Asian trip. (Photo Harry Cutting/©Dupuch)
As a high-powered government delegation makes its pitch to entice some of Asia's wealthiest individuals to these shores, The Bahamas Investor is helping them deliver a powerful message: The Bahamas is the jurisdiction in which to do business.
Representatives of the Ministry of Financial Services and Investments and the Bahamas Financial Services Board (BFSB) arrived in China October 5 for the start of a 17-day, strategic business trip that will see the delegation visit Hong Kong, Shanghai and Beijing before returning to Nassau October 22.
"We're taking 1,000 copies of The Bahamas Investor on our Asia trip to help us tell the story of The Bahamas," said Minister of Financial Services Ryan Pinder prior to his departure.

"Doing business in The Bahamas is a new concept for the Asian market. The Bahamas Investor is really a top quality showpiece of the different aspects of The Bahamas."
Pinder carries the magazine to events worldwide, including conferences, forums and meetings in Brazil, Uruguay, Mexico and North America, specifically Miami and New York.
"The Bahamas needs promotion material more than ever before. The Bahamas Investor gives a powerful introduction to the jurisdiction," said publisher Etienne Dupuch Jr. "It has instant pick-up appeal. It's readable and it sells The Bahamas. The information is invaluable to its targeted market."
Launched in 2006, The Bahamas Investor brings timely and stimulating editorial geared towards high-net-worth individuals and wealth managers.
Its sections include investing, wealth management, business, prospects and trends, industry, island spotlight, lifestyle and real estate.
"In every issue there is substantive coverage of the financial services industry in The Bahamas, so we think it's a nice fit in the promotional efforts that we do abroad," added Pinder.
In Hong Kong, the delegation led by Minister Pinder and BFSB CEO Aliya Allen will host a Bahamas Landfall event and attend the STEP Asia conference.
At Landfall events the BFSB spearheads a customized pitch to key individuals on why The Bahamas is the place to conduct business. The information delivered and products and services discussed are geared specifically for that audience.
The STEP Asia conference is a high-profile gathering of society, trust and estate practitioners.
On October 13, the delegation will travel to Shanghai for one-on-one meetings with key persons before attending the China Offshore Summit, which runs October 15–16.
According to the event's organizers, the summit was designed by financial services practitioners "to educate Chinese financial intermediaries on the effective use of tax planning and asset management tools available in low-tax jurisdictions."
In Beijing, the Bahamian delegation will host one-on-one meetings with key persons on October 20, in addition to hosting a second Landfall event October 21.
"Everybody knows The Bahamas as a top tourist destination. As we go out and promote The Bahamas across the world, we promote it as a business centre," said Pinder. "I think The Bahamas Investor brings the reality that The Bahamas is the place to do business. Certainly the real estate sections are very useful for us."
In Asia, Pinder believes the residency program of The Bahamas is going to be of particular importance. Real estate investment opportunities, he feels, bring a "value added component."
"We don't just want to establish products. We want to be able to demonstrate that you could live here," he said. "You have the professional service providers to support you here, as well as what we do in financial services."