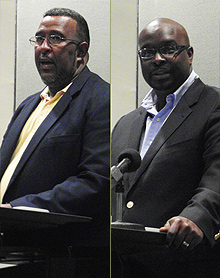 Leading botanists gathered in The Bahamas this week to attend an international symposium on the country's diverse flora.
The symposium, themed "Celebrating 30 Years of the Flora of The Bahamas: Conservation and Science Challenges," was held at the Harry C Moore Library at The College of The Bahamas (COB).
Minister of Environment and Housing Kenred Dorsett gave the opening address and spoke of the need to protect the biodiversity of the islands.
"Biologists have been voicing their concerns about the disappearance of plants and animals across the globe for many years now. Preserving species will provide a greater cushion against environmental assaults."

He said that part of the government's mandate was to examine using plants as biofuels and the various ways plants can be used, aside from agricultural purposes.
"Designer plants have been used to make plastics, new healthy sugars and anti-cancer drugs," he said.
Also speaking at the event was executive director of the Bahamas National Trust Eric Carey who said that he was working with the Minister on a number of new initatives, including establishing botanical preserves on each of the Bahamian islands and creating science internships in collaboration with COB.
The two-day event took place at the start of the week and was organized by BNT, COB, Fairchild Tropical Botanic Garden and Florida International University.
It included lectures, a field trip to the Primeval Forest National Park and question and answer sessions with speakers.
cmorris@dupuch.com