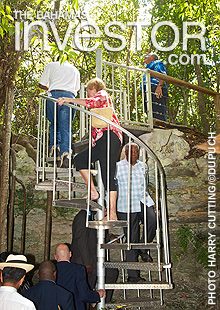 Pictured: Pericles Maillis conducts tour of the Primeval Forest National Park for government officials and other dignitaries at the official opening of the Park in western New Providence Island, March 21, 2014. (Photo Harry Cutting/©Dupuch)
The Bahamas' ecotourism industry received a boost last week with the official opening of the Primeval Forest National Park on New Providence.
Established in 2002, the 7.5-acre park was previously inaccessible to visitors, but is now open to the public and has new facilities such as walking trails and a visitor's centre. The site is an ancient tropical hardwood forest, undisturbed by development. It contains intricate limestone formations, sinkholes and diverse flora and fauna.
Minister of National Security Dr Bernard Nottage (left) opened the park on behalf of Prime Minister Perry Christie, who was overseas on another engagement. Dr Nottage praised the collaborative effort of the Bahamas National Trust (BNT), the government and private donors in establishing the park and spoke of how it would benefit the economy.
"A visit to the Primeval Forest will give our visitors a first hand experience–something a geology book cannot do. These parks provide opportunities for ecotourism, which provide income for Bahamians," he said.
The opening took place on World Forestry Day and director of Forestry within the Ministry of the Environment and Housing Christopher Russell (left – photos Harry Cutting/©Dupuch) also attended. He said the government is currently amending the 2010 Forestry Act to allow for specific forest areas to be protected as national conservation areas.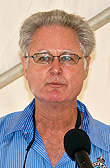 Speaking of how important it is to conserve sites such as the Primeval Forest, BNT president Neil McKinney (left) said: "It is truly unique. There is nowhere else on this island that is like this. We have this one remnant that is preserved as a legacy for Bahamians, for schoolchildren to learn [and] for tourists to come and see."
"It is a wonderful place. We are fortunate to have it here."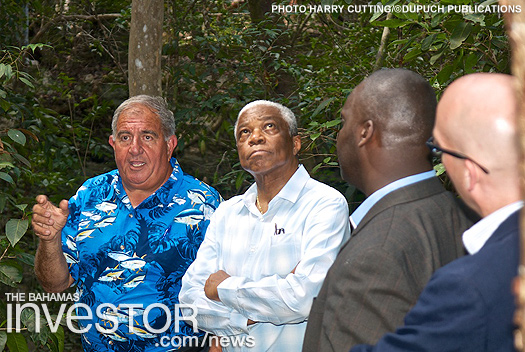 Pictured: Pericles Maillis conducts a tour of the Primeval Forest National Park for government officials and other dignitaries at the official opening of the Park in western New Providence Island, March 21, 2014. (Photo Harry Cutting/©Dupuch)
cmorris@dupuch.com