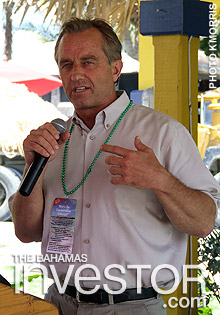 The Bahamas National Trust (BNT) officially launched its "Conchservation" campaign this week, and environmental activist Robert F Kennedy Jr was on hand to offer his support.
Speaking at the event held at Arawak Cay last weekend, Kennedy urged Bahamians to protect their conch supplies before it was too late.
"The Bahamas is the last place that still has some healthy conch populations, but you are not going to have that if you do not manage them well," he said. "If the groups in The Bahamas put their heads together you are going to restore the population."
The environmental lawyer, who is president of the Waterkeepers Alliance—a foundation that monitors water pollution around the world—emphasized the importance of the local ecosystem to daily life in The Bahamas saying: "We are protecting the environment for our own sakes. The conch belongs to the people of The Bahamas."

"Nature is the infrastructure of our communities. It is a connection to your past, your history and the source of your values and virtues."
Conch populations around The Bahamas have declined dramatically in recent years.
Researchers from the environmental group Community Conch surveyed sites in the Berry Islands and estimate that, if action is not taken, the future fishery population of adult conchs could decrease by as much as 60 per cent.
In Exuma the group found that the density of queen conch near Lee Stocking Island has declined by over 90 per cent since the early 1990s.
The BNT campaign aims to raise awareness about the conch's vulnerability and bring about a more sustainable approach to conch fishing.
BNT president Neil McKinney said: "We are not trying to ban conch, we are trying to facilitate a discussion to manage conch in the future. If we do nothing, nothing will change."
cmorris@dupuch.com