The Bahamian government has said that half of the 100,000 square miles of Bahamian territory will be designated as Marine Protected Areas (MPAs) under the auspices of the Bahamas National Trust (BNT) under existing legislation.
The announcement comes after a coral reef research project conducted by the Prince Khaled bin Sultan Living Oceans Foundation in collaboration with Bahamian scientists found that Bahamian coral reefs are threatened with extinction due to overfishing and climate change.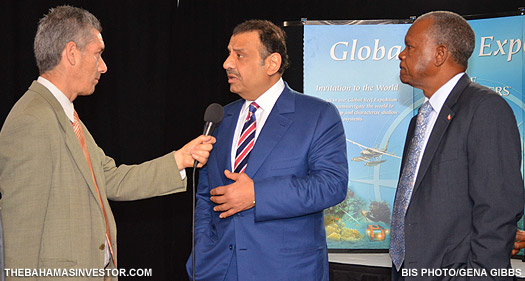 HRH Prince Khaled bin Sultan of Saudi Arabia and Bahamas Minister of the Environment Earl Deveaux at a press conference March 3. (BIS Photo/Gena Gibbs)
"We don't anticipate any new legislation as a result of the research," said Minister of the Environment Earl Deveaux at a March 3 press conference at Atlantis Paradise Island. "What we expect will happen is that it will inform and amplify our completed legislative work."
Minister Deveaux noted that the Bahamas National Trust Act was recently amended and that the government also passed a Planning and Subdivision Act and a Forestry Act.
"By virtue of what we have done in the three acts, we are likely to have under permanent protection as much as 50 per cent of The Bahamas. To put that in perspective, much of The Bahamas lies in permanent wetland ecosystems and so, we've put those under permanent protection of the Forestry Act."
Since April 2011, nine Bahamian scientists participated in the Science Without Borders expedition and studied coral reef communities in Cay Sal Bank, Inagua, Andros and Abaco.
Minister Deveaux said the survey will reveal a lot about the existing conditions and whether fishing activities have accelerated coral reef destruction.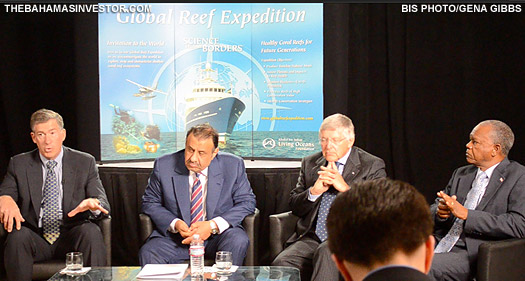 Living Oceans Foundation roundtable discussion. Pictured: (left to right) Capt. Phillip Renaud, LOF executive director; HRH Prince Khaled bin Sultan, LOF president and chairman; Ian Fair, LOF chief financial officer; and Earl Deveaux, Minister of the Environment. (BIS Photo/Gena Gibbs)