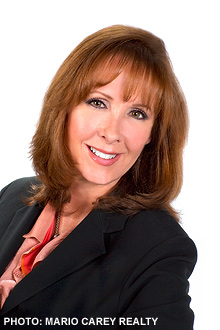 Mario Carey Realty has strengthened its team of agents ahead of what it believes will be a period of accelerated growth in the luxury property market spawned by new offerings locally, including Baha Mar.
Dana Pinder, who has more than seven years experience and recently joined the local firm, believes that the $3.5-billion Baha Mar resort and residential project has "amazing" untapped potential.
"It is a common phenomenon that those farther away are quicker to appreciate what those closer to home do not yet see in their own back yard," says Pinder.
"Our 'back yard' is bursting with one of the hottest property offerings anywhere on the globe: more than 200 income-generating residences at four hotels, ultra-luxurious with the most modern and sophisticated amenities available on the market."

Pinder says that when the resort was first promoted overseas there was "instantaneous" interest in places such as London, Dubai and Beijing.
Baha Mar has reportedly taken 50 deposits on million-dollar-plus offerings in the first round of sales.
With economic woes still hounding other second-home destinations in Europe, Pinder believes The Bahamas is perfectly positioned.
"With several countries including Greece, Spain, Italy and France either on the brink of financial disaster or threatening to raise taxes to remain solvent, a tax neutral country like The Bahamas becomes even more attractive," she says.
"Add to that the political stability, our accessibility and year-round warmth and The Bahamas looks like heaven. Now with the newest, hottest construction project underway creating a new city, a new Riviera, the eyes of the world have more reason than ever to focus on The Bahamas."
Photo courtesy Mario Carey Realty