The end of the month was marred by the arrival of Hurricane Sandy, which tore through the archipelago, forcing schools and offices to close and causing extensive damage to homes and infrastructure on some of the islands.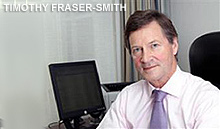 The category 2 storm tragically claimed the life of British investment banker Timothy Fraser-Smith (left), 66, chief executive of Deltec Bank & Trust, who fell from the balcony of his home in Lyford Cay October 25.
From Jamaica (pictured top), across Cuba and into Bahamian waters, Sandy damaged islands to the south, the west and northwestern parts of the archipelago, as well subjecting the capital to high winds and torrential rains. The storm left The Bahamas to head out over the Atlantic before striking the US northeast coast at the beginning of the week. Here is a summary of the news and press posts as the event unfolded.
Wednesday afternoon:
Saturday afternoon:
Other links: