The site offers quick access to real-time flight information, easy navigation to frequently-used information and a responsive design adaptable to a wide range of mobile devices.
Jan Knowles, vice president of marketing & communications at Nassau Airport Development Co (NAD) said the website is the latest piece to an improved airport experience.
"We're very proud of the new website and the improved online experience for our passengers. Based on analytics from our old site, we realized that a significant amount of traffic came from users on mobile devices. Now, the revised mobile site is clean, easy to navigate and very interactive."
The website features content relevant to all passengers and the community including information about shopping, restaurants, amenities and transportation options as well as airport events, career opportunities and the latest news.
"We also focused on integrating our social media channels so that we can engage travelers before, during and after they visit Nassau/Paradise Island. On the homepage you'll find links to our Facebook and Instagram accounts and a live Twitter feed," added Knowles.
Since 2009, LPIA has undergone significant transformation, becoming an award-winning facility processing more than 3 million passengers annually. In 2014, the airport welcomed Southwest Airlines' inaugural international flight and in 2015 launched BorderXpress Automated Passport Control kiosks allowing accelerated processing for many US-bound travelers.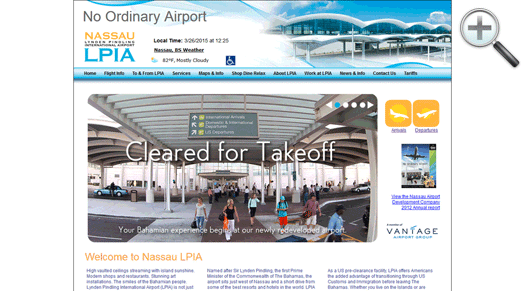 Before shot of the LPIA website. (Courtesy NAD)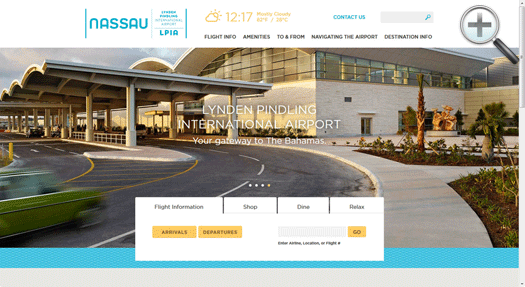 After shot of the LPIA website. (Courtesy NAD)