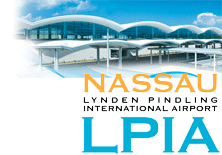 A recent Airport Service Quality survey of Lynden Pindling International Airport has shown marked improvements since the completion of the facility's multi-million dollar redevelopment.
In the final quarter of 2014, LPIA scores on Waiting Time in the Check-in Queue increased from 4.07 to 4.37, Waiting Time at Security Inspection climbed from 4.04 to 4.25, Passport/Personal ID Inspection went from 4.03 to 4.19 and up over Q3 results.

LPIA scored 4.56 out of a possible 5-point scale high on the Cleanliness of the Airport. In the category of Courtesy/Helpfulness of Check-in Staff, scores moved from 4.14 to 4.40 in one quarter. Officials credit airlines and their staff for playing a significant role in the passengers experience while in terminal.
Efficient movement of passengers through the facilities weighed heavily on overall passenger satisfaction numbers which rose from 4.35 in Q3 to 4.40 in Q4. Nassau Airport Development's president and chief executive officer, Vernice Walkine, believes the airport will see a further uptick in future scores with the addition of 20 new self-service Automated Passport Control kiosks in US Customs & Border Protection earlier this month. Considerations are being given to similar technology on the International Arrivals end.
Since 2011, the ASQ survey has evaluated LPIA's performance and benchmarked the airport against other facilities within the region and in similar size category (2-5 million passengers per annum). ASQ surveys capture passenger appraisals from more than 250 airports in over 50 countries. LPIA finished 2014 ranking in the top fifty out of 267 airports and ranked 4th within the region and 4th within the 2-5 million size category.