Key stakeholders at Lynden Pindling International Airport (LPIA) have finalized plans to manage high passenger volumes over the Thanksgiving weekend.
Starting November 27 through to December 2 approximately 90,000 travelers will move through the country's major gateway. Officials are working together to manage aircraft movement and passenger flows in terminal.

"During holiday peak travel periods we wish to assure the travelling public that firstly, their safety is our paramount concern. Our overall objective is to make certain that a high level of efficiency prevails in the terminals coupled with excellent customer service resulting in a positive experience for our passengers. We continuously work with the key stakeholders to maximize the efficiency of operations and our goal is to mitigate any potential challenges within our facilities and to achieve this, we must work collaboratively with our key stakeholders," said Deborah Coleby, vice president, operations at LPIA.
Bahamas Air Navigation Services Division (BANSD) has committed to ensuring that Air Traffic Services is adequately staffed to handle the projected increase in air traffic during the critical holiday period. A notice to airmen will be issued encouraging local general aviation charters to operate flights outside of the peak period of 11 a.m. – 3 p.m. so that they are able to avoid the traffic and potential delays to their customers.
During these peak travel periods, it is not unusual for LPIA to experience air saturation because of the amount of commercial aircraft and additional private aircraft in the airspace. Officials of BANSD have committed to work in tandem with the Miami Center to manage the flow of air traffic as efficiently as possible. Additionally, BANSD is scheduling its staff and boosting manpower to ensure that the demand and the saturation are well managed.
The Airport Authority has indicated that it will ensure that adequate staff members are deployed at all pre-board screening checkpoints as customary, during the peak travel periods between 11am – 3pm to manage the flow of traffic. In addition, NAD personnel will be in place to manage lines with a view to reducing queue times.
Bahamas Customs and Bahamas Immigration will also beef up staffing over the Thanksgiving period and Bahamas Immigration will continue to deploy team members to assist arriving passengers and direct them accordingly to the booths or the kiosks.
With runway rehabilitation works in the final stages, LPIA will likely operate as a single runway facility through the Thanksgiving weekend. Contingency plans remain in place and the airport will employ best practices used during the summer travel peak to manage traffic on the airside.
Passengers should check-in at least three hours prior to US-bound flights and two hours prior to International departure flights with the exception of early morning flights. LPIA opens at 4:30am daily. It is recommended that passengers traveling on flights between 6:15am and 7:30am arrive at the airport at 4:30am. Arriving early allows for sufficient time to check in, clear security, find your gate and enjoy airport amenities.
Thoroughly check your documents. Ensure that passports are valid. For US-bound flights, local passengers must be in possession of a US visa or a current police record issued within the last six months.
Pack wisely. Restrictions still apply on liquids, aerosols and gels. Remember the 3-1-1 rule: 3.4 ounces or less per container for liquids, gels or aerosols; packed in 1 quart-sized clear plastic zip-top bag; limit of 1 bag per passenger.
While waiting on the security lines place coins, keys and any small metal items in the screening bin, remove jackets and outerwear and unpack your laptop and other devices. Be sure to wear comfortable clothing and shoes that can be easily removed. Leave gifts unwrapped. They may be opened for inspection as part of the baggage screening process.
Confirm travel details in advance. Days before your flight, check your reservation and determine baggage specifications. Consider travelling outside of the peak departure times. Early morning and evening flights are considered off-peak.
Stay connected by checking the airport website nassaulpia.com for the latest updates on flight schedules and information on parking, in-terminal services or new security regulations and procedures. Also, be sure to follow your individual airline carriers on social media for more specific flight details.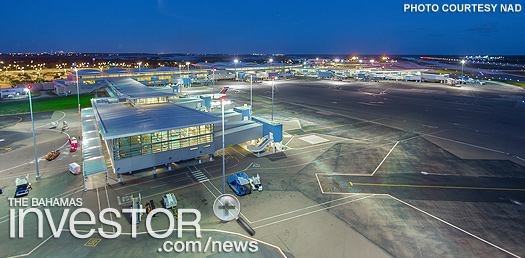 (Photo courtesy NAD)