Nassau Airport Development Company (NAD) began a phased demolition of the former domestic and international terminal building at Lynden Pindling International Airport (LPIA) last week.
NAD's maintenance and engineering department is spearheading the project and estimates a 10-week timeline for the initiative.

Built in the late 1950s, the old domestic and international terminal opened for operation in 1957.
Once the building is completely demolished, the land will be used for future airport expansion plans. Consideration is being given to the construction of a new dedicated domestic terminal at the airport.
The site, however, will not be used for the proposed airport hotel. The proposed hotel site is on 4.68 acres of land just northeast of the existing US Departures Terminal building near the airport's international parking facility.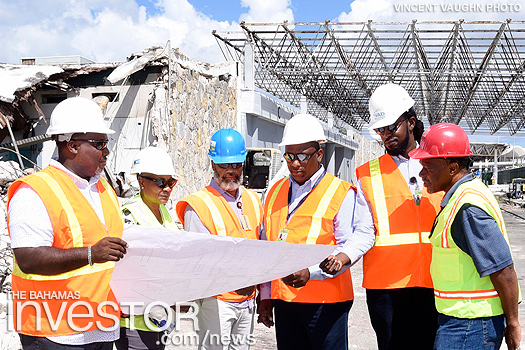 Pictured: (from left) Kevin McDonald, VP of maintenance and engineering; Deborah Coleby, VP of operations; Sean Moultrie, manager of capital projects; Gary Scavella, director of maintenance & engineering; Rashad Grant, supervisor of capital projects; and Dwight Higgs, superior maintenance. (Photos by Vincent Vaughn)