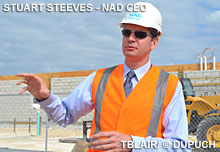 Construction is well underway on Stage Two of the Lynden Pindling International Airport's $409.5 million redevelopment, announced Stuart Steeves, president and chief executive officer of the Nassau Airport Development Co (NAD) Wednesday.
"Stage Two construction is now 36 per cent complete and there are 201 workers on site with 66 per cent Bahamian labour today," Steeves confirmed at a press briefing and site tour. "Overall, the project is 60 per cent complete and progressing on schedule and on budget."
The redevelopment of LPIA aims to update the airport facilities to world-class standards and expand the airport's terminal capacity. The work is being carried out in three stages.
Stage One involved the design, construction and opening of a new US Departure Terminal. That stage was completed in February at a cost of $191.1 million. The terminal features the latest in baggage systems, paired with energy conservation and efficiency initiatives, 19 new retail and food outlets, including a 170-seat restaurant with patio dining.
Stage Two began immediately after the new US Departure Terminal was officially opened in March this year. Construction involves the complete refurbishment of the original US Departure Terminal into a new US/International Arrivals Terminal with Bahamian Immigration upstairs and Bahamian Customs downstairs and a new international departure pier, covering a total of 226,000 sq ft.
Stage Two is expected to open in fall 2012. It is expected to cost $140.2 million.
According to Frank Comito, deputy chairman of NAD, Stage Two will be built with the same attention to design, the environment and the use of local materials and workers as the Stage One development was.
"NAD's board of directors is committed to ensuring that this state-of-the-art airport is developed with precision and care and in a manner that emphasizes sustainability and community benefits," he said.
The final stage will involve the design construction and opening of a new International and Domestic Departures/Domestic Arrivals Terminal at the location of the existing International Arrivals Hall. Stage Three carries a $72.5-million pricetag and is contingent upon NAD securing financing.
To date, NAD has raised $582 million in four separate transactions. It currently has just over $346 million outstanding, according to Paul Ward, vice president of finance and chief financial officer.
"The key objectives of our financing structure were, and will be, to maintain competitive rates, ensure no government guarantees are required and to maintain an investment grade credit rating," said Ward.
He noted that the airport has not been immune to the global economic slowdown.
"During our 2011 fiscal year LPIA handled 3.1 million passengers, basically flat from the prior year, but down from the 3.4 million passengers handled in the 2008 fiscal year," said Ward.
"In spite of the cyclical decline and the ongoing economical challenges, the long-term projection is for passengers at LPIA to increase to 5.8 million by 2025. The terminal redevelopment will indeed enable us to realize this growth potential."
With the new facilities comes an opportunity for expanded air service, said Steeves.
NAD is working closely with partners at the Ministry of Tourism and Aviation, the Nassau/Paradise Island Promotion Board and the Bahamas Hotel Association to encourage carriers to increase their service and frequencies to Nassau and Paradise Island.
NAD is the host of the 2012 Routes Americas forum in February, where it hopes to showcase The Bahamas as a leading destination to key airline decision makers.
"They will be able to see first hand our world-class resorts and the infrastructure investment in Nassau, including road improvements and BahaMar and of course, the airport improvements that support additional airlift to our destination," he said.
"While we are working hard to create a world-class airport, we are focused on ensuring the service experience is also world classs."
tblair@dupuch.com