The government of The Bahamas has signed a Heads of Agreement with Western Atlantic University of Medicine Ltd for the establishment and operation of a University School of Medicine in Freeport.
The signing ceremony took place on October 21, 2019 in Freeport, Grand Bahama.

The development represents a $64 million investment and will provide hundreds of construction and permanent jobs.
Prime Minister Dr Hubert Minnis described Monday's signing as an important part of the Hurricane Dorian recovery and reconstruction effort.
"This development represents a significant investment in Grand Bahama, the country's second largest economy," said the Prime Minister.
It is estimated that in the University's first 10 years of operation, student and faculty spending on housing, food, entertainment, goods and on-island transportation, will provide a combined $200 million in revenue for Grand Bahama.
At the peak of construction, 150 jobs will be created.
During the full operation of the campus, approximately 200 permanent jobs will be created for Bahamians.
"This major development will inject hundreds of millions of dollars into the local economy over time, and provide direct and indirect opportunities for scores of residents," said Prime Minister Minnis.
The development will include university-owned housing for faculty, staff and students on campus. It will also encompass: on-campus businesses, including a bookstore, cafeteria and a student centre providing music, food, beverages, a copy centre and related services.
Western Atlantic intends to build its own campus on land to be leased from the Public Hospitals Authority.
A maximum of 50 acres will be leased in three tranches, based upon the university's satisfaction of certain deliverables.
The campus will be developed in multiple phases over the next 10 years. The first three phases represent an investment of $64 million.
It will involve the construction of 98,000 sq ft of classrooms, offices, lab facilities, maintenance, security and related spaces.
Construction will begin on the first phase by the end of this year.
During the construction phase, Western Atlantic has agreed to aim for an overall ratio of 80 per cent Bahamian workers to 20 per cent non-Bahamian workers.
Under the agreement, Western Atlantic will also work closely with the government and local communities to develop training and professional development programs for Bahamians who want to work during the operation of the campus.
Approval to operate the campus will be contingent on the University obtaining accreditation from the Caribbean Accreditation Authority for Education in Medicine and other Health Professions (CAAM-HP), or an equivalent body.
Western Atlantic will also work toward receiving accreditation for its students to be able to practice medicine in the US, Canada and The Bahamas.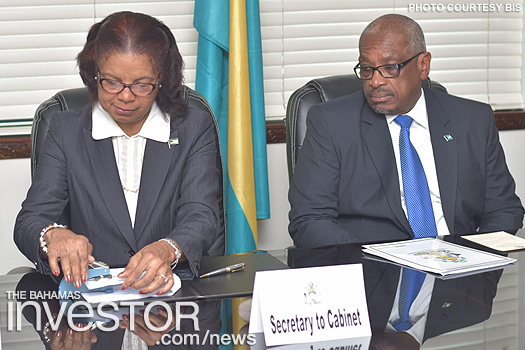 Pictured: Secretary to the Cabinet Camille Johnson (left) signs the Heads of Agreement on behalf of The Bahamas government October 21, 2019 in Freeport, Grand Bahama. Prime Minister Minnis sits at right. (Photos courtesy BIS)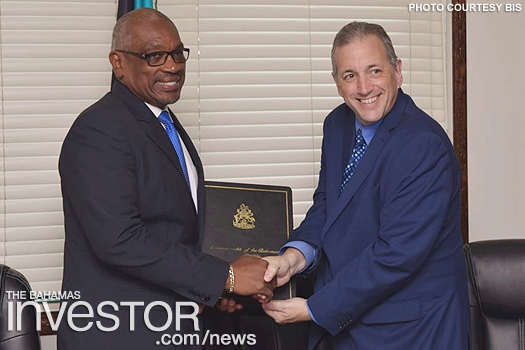 Pictured: Prime Minister Dr Hubert Minnis (left) with CEO, Western Atlantic University School of Medicine, Peter Goetz. (Photos courtesy BIS)