Ground was broken January 30 on a major new infrastructure residence and multi-purpose complex at the University of The Bahamas (UB).
Prime Minister Dr Hubert Minnis gave the keynote address, declaring the project a major venture that will revitalize surrounding communities, inject new vitality and provide opportunities for community engagement and business investments.

The new building comprises: 1,000-bed residence facility; 400 parking stalls; and more than 50,000 sq ft of common areas including a fitness centre, study rooms, a 200-seat dining hall, a 500-seat ballroom and a spiritual life centre; faculty residences; and a retail commercial and business operation.
Phase 1 of construction on the $95 million complex is anticipated to be completed by June 2021; and Phase 2 is scheduled to be completed by November 2021.
Construction and operation of the complex is based on a public private partnership including UB, Providence Investment and Development Co Ltd, and Asset Campus International.
Minister of Education Jeff Lloyd said the ground breaking was a "giant" step forward in increasing the country's capacity to stimulate economic and social growth through education.
He added that the event was indicative of the valuable resources in the youth of the country, and commended the students who were an integral part of the planning phase of the complex.
Among those in attendance were Peter Turnquest, Deputy Prime Minister and Minister of Finance; Cabinet ministers, parliamentarians, senators, members of the Board of UB, government officials, members of the diplomatic corps, students and staff of UB and representatives of Providence Investment and Development Co Ltd.
Dr Rodney Smith, president, UB, underscored that careful consideration in determining the location of the building was taken.
Among the requirements: central location, situated to enhance the economic and social development of the entire surrounding community, especially Bain and Grants Town – to become a significant part of the thriving and bustling Oakes Field campus, creating true living and learning environment.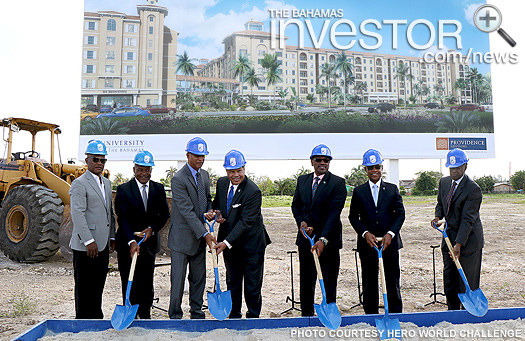 Pictured: Prime Minister Minnis, centre, Minister Lloyd, centre right, and UB President Smith, centre left, January 30, 2020 at UB in Oakes Field. (BIS Photos/Letisha Henderson)