Prime Minister Dr Hubert Minnis participated in a groundbreaking ceremony for Leno Corporate Centre February 10, 2020.
To be located on Third Terrace West and Collins Avenue, construction of the financial headquarters will incorporate renewable energy and green technology in keeping with a competitive environment.

The Prime Minister in his keynote address commended the Leno Group of Companies on its mission to cater to the financial needs of its clients. Also present was Minister of Public Works Desmond Bannister.
"Today's groundbreaking is another milestone in your mission to strive to be the bridge between clients and their financial needs, while helping them to make their financial dreams possible," the Prime Minister said.
He also pointed out that the proposed five-storey, 50,000 sq ft building would employ 150 to 200 workers on site to completion in June 2021.
The Prime Minister reminded the guests assembled on site that a leading priority of this government is economic growth, job creation and wealth creation.
"There is much work we have to do as a country to boost productivity and prosperity for poorer Bahamians, the middle class and other wealth creators," he said.
The Prime Minister added that one path to boosting prosperity is through market participation and the building of a stakeholder society.
He then urged Leno that as it plans for the future to pay special attention to the needs of small businesses, aspiring entrepreneurs and those who have great potential but who are sometimes overlooked.
In his administration's last national budget, an estimated $25 million was allocated to support small and medium-sized businesses, including the establishment of the Access Accelerator Small Business Development Centre (SBDC).
As Leno heads towards its 10th anniversary with assets of $1 billion under management, the Prime Minister said he also understands that the company plans to expand its real estate holdings and its presence in the Latin American and Asian markets.
He congratulated Leno on this milestone and said he looks forward as the company assists in local and international wealth growth.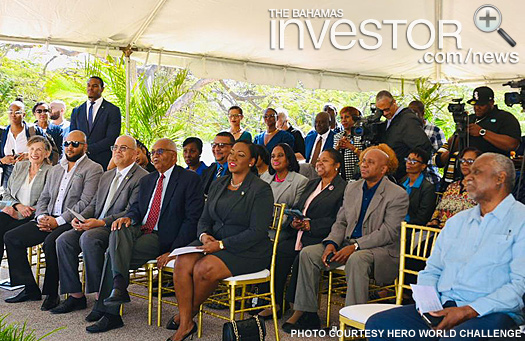 Pictured: Prime Minister Dr Hubert Minnis addresses the Leno Corporate Centre groundbreaking ceremony, February 10, 2020 at Third Terrace West and Collins Avenue. (BIS Photo/Yontalay Bowe)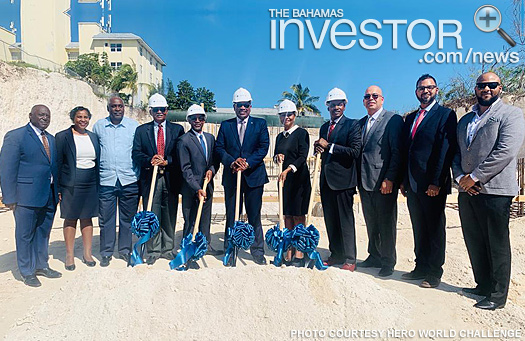 Pictured: Prime Minister Dr Hubert Minnis addresses the Leno Corporate Centre groundbreaking ceremony, February 10, 2020 at Third Terrace West and Collins Avenue. (BIS Photo/Yontalay Bowe)
Read/download the Prime Minister's full address here: