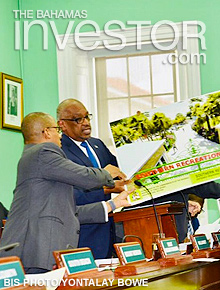 Pictured: Prime Minister Hubert Minnis (centre) shows rendering of refurbished Southern Recreation Grounds in the House of Assembly, February 13, 2019. (BIS Photo/Yontalay Bowe)
The Central Bank of The Bahamas' new building is part of the revitalization of downtown Nassau, Prime Minister Dr Hubert Minnis told the House of Assembly yesterday.
He was contributing to the debate on the Resolution to Convey Property and Land from the government of The Bahamas to Central Bank for the building of a new bank.
"The redeveloped Prince George Wharf, the new Supreme Court Complex, and supporting offices, and the new Central Bank will boost the revitalization, renewal and restoration of downtown," the Prime Minister said during the morning House session on February 13, 2019.

"We are conveying the land and the property for the purpose of constructing a new complex for The Central Bank of The Bahamas, which long ago outgrew its premises. For many years the Central Bank pressed for the development of a new site, as the bank grew to meet the challenges and the responsibilities of a new era and a new century," the Prime Minister said.
The Central Bank's Administration Department Manager Ian Fernander described the proposed facility as an "iconic structure" and a "one-of-a-kind building," the Prime Minister told Parliament.
The new facility will also include a museum, an art gallery and a movie theatre.
In recent years, the government of The Bahamas has developed office sites for the Ministry of Education, the Public Treasury, the National Emergency Management Agency, the Office of the Prime Minister, the Office of the Attorney General and other agencies.
"To house other government agencies and to reduce the costs of rentals and leases, the government will need to invest over many years in new buildings and purchases," the Prime Minister said.
He noted that the Ministry of Finance set up a Special Purpose Vehicle to purchase the former UBS Corporate Centre on East Bay Street, which is now known as Poinciana House. The complex houses the Securities Commission, the Insurance and the Compliance Commission.
To house other agencies, he said that the government will construct a major new office complex on the site of the old City Market on Market Street.
"This new complex is part of our ambitious and long-term urban revitalization programme. It will complement the refurbished Southern Recreation Grounds. I am pleased that the refurbishment of this historic site has begun," the Prime Minister said.
"In time, we must consider a new parliamentary complex," the Prime Minister said, further explaining that the current Senate and House of Assembly buildings should become museums chronicling the country's development as a parliamentary democracy.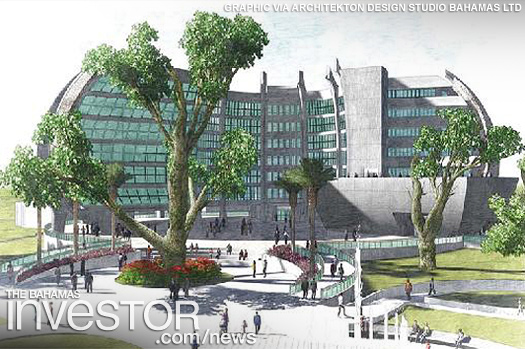 Pictured: Plans for The Central Bank of The Bahamas' new facility were unveiled on Friday May 11, 2018, as part of its Nassau Reimagined project which aims to upgrade and rejuvenate the downtown area. (Graphic via Architekton Design Studio Bahamas)