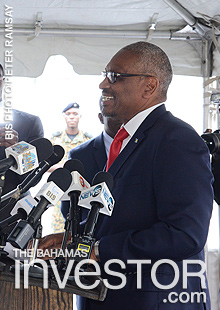 Pictured: Prime Minister Dr Hubert Minnis addresses maritime industry stakeholders at the official naming ceremony of two tugboats at Prince George Dock May 14, 2018. (BIS Photos/Peter Ramsay)
Prime Minister Dr Hubert Minnis has extolled the potential of the maritime sector as another way to diversify the economy. He made the observation during the Official Christening Ceremony at Prince George Dock earlier this week of two state-of-the art, $15 million vessels. The tugboats are part of a public/private partnership to improve maritime services.
"The maritime sector holds great promise for The Bahamas, and is another sector for increased diversification," the Prime Minister said. "There are approximately 5,000 jobs Bahamians can be trained for in the international maritime industry."
The state-of-the art vessels valued at $15 million, will complement the government's tugboats fleet in rendering service to cruise ships coming in port and emergency services to smaller vessels.

Tugs Samson and Rose will be operated by Tug Services Ltd, a 100 per cent Bahamian-owned and operated company.
The government of The Bahamas entered into a 15-year contractual lease arrangement with Tug Services, which began April 1, 2018.
"These are the kinds of public/private partnerships which help to provide certain necessary services," the Prime Minister said.
The agreement calls for Tug Services to provide the tug boats on a daily timed charter.
It also includes management services, crew, firefighting, oil spill recovery, salvage capabilities and vessel maintenance for tug services at Nassau Harbour and Clifton Pier.
The government is reviewing other possible public/private partnerships in a number of areas in the maritime and transport sectors.
"This is all a part of our programme of modernization of public services, including in the generation of electricity, the installation of fibre optics throughout the government-operated school system and solarization and renewable energy projects," the Prime Minister said.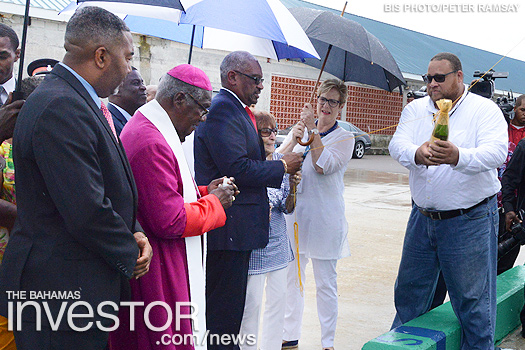 Pictured: Prime Minister Dr Hubert Minnis christens the tugboats at Prince George Dock May 14, 2018. (BIS Photos/Peter Ramsay)