The government and Nassau Cruise Port Ltd signed a Heads of Agreement for the redevelopment of Nassau Cruise Port, August 28, 2019, at Festival Place.
Prime Minister Dr Hubert Minnis said the government is embarking on a "quarter of a billion dollar major project to redevelop what will become the iconic, world-renowned and new Nassau Cruise Port."

Global Ports Holding will spearhead the makeover and will be the port operator under a 25-year management agreement and part of a unique consortium that has been negotiated to transform the Nassau Cruise Port.
Secretary to the Cabinet, Camille Johnson signed on behalf of The Bahamas government and regional director of the Americas, Global Ports Holding, Mike Maura Jr signed on behalf of the operator.
In attendance were: Cabinet Ministers and permanent secretaries; other government officials; chairman, Global Ports Holding, Mehmet Kutman; and other representatives of the operator.
The Prime Minister explained that after decades of discussion and debate, the transformation and revitalization of downtown Nassau is about to take a dramatic leap.
"Bahamians and visitors should enjoy a bustling and vibrant city, with exciting nightlife, and entertainment, featuring Bahamian, and international culture, music and food," the Prime Minister said.
"Further, in keeping with world-class standards, we are also entering a new era in how downtown Nassau is maintained and beautified, which may require new regulations and laws."
He said the transformed, state-of-the-art Nassau Cruise Port will be situated at the historic Prince George Wharf.
The Prime Minister also emphasized that Prince George Wharf will remain wholly-owned by the government.
He said: "The new world-class port will include a new terminal, a waterfront park, a harbour village, new inner harbour, amphitheatre, Junkanoo Museum, shops, restaurants and an impact theatre."
"The number of berthing facilities for cruise ships will be expanded. This will mean even more cruise passengers and more economic opportunities for Bahamians."
He also explained that there will be "a centralized transportation area for onward transfer of passengers by existing and any future Bahamian licensed taxi and tour operators from Downtown Nassau to elsewhere in New Providence and Paradise Island."
Further, the new parking and waiting areas will be designed "to ensure smooth and efficient operations by existing licensed taxi and tour operators," whose leadership has already been consulted – this consultation will continue throughout the process.
The Prime Minister noted that the construction period will generate approximately 500 jobs
He said that it is expected that there will be a tremendous growth in the number of cruise passengers in the years ahead.
"Along with the extraordinary growth in air arrivals, and longer stay guests, New Providence will continue to see a rise in the number of annual visitors."
"These millions of visitors represent enormous economic opportunities for Bahamians throughout the economy, including farmers, artisans, store owners, taxi, tour and heritage operators, straw vendors, hair braiders, restaurant owners and others."
The Prime Minister explained that through the Small Business Development Centre, the government is training, mentoring, and in a number of instances, approving grants to Bahamian entrepreneurs who are getting into the tourism business.
"The new cruise port will feature an extraordinary variety of recreational, entertainment, shopping and food and beverage spaces for Bahamians, tourists and other visitors."
The Prime Minister added: "These small and medium-sized enterprises will be owned solely by Bahamians, who will be able to rent or lease spaces designed around various aspects of Bahamian culture."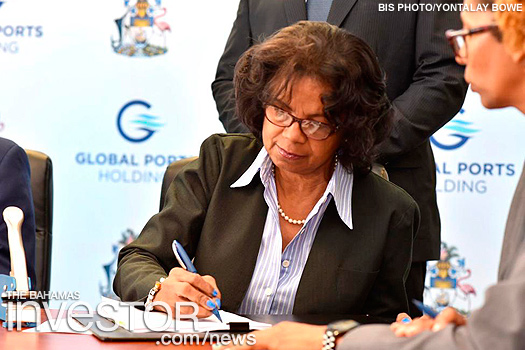 Pictured: Secretary to the Cabinet Camille Johnson signs the agreement August 28, 2019, at Festival Place. (BIS Photo/Yontalay Bowe)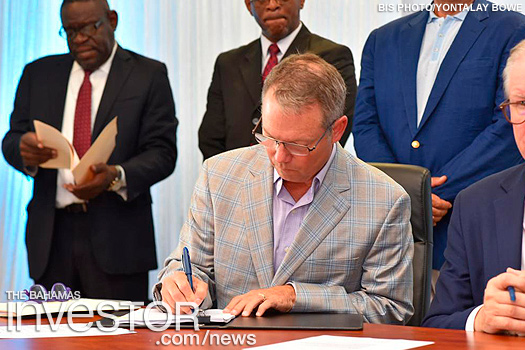 Pictured: Global Ports Holding regional director of the Americas Mike Maura signs the agreement August 28, 2019, at Festival Place. (BIS Photo/Yontalay Bowe)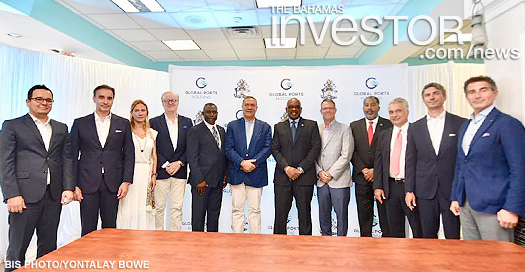 Pictured: Heads of Agreement signing for the redevelopment of Nassau Cruise Port, August 28, 2019, at Festival Place. (BIS Photo/Yontalay Bowe)
For more detail, read/download the press release here: