Migration, climate change and border issues were central concerns addressed by CARICOM's Council for Foreign and Community Relations (COFCOR) during its two days of meetings in Nassau, May 7-8, as part of the 21st conclave, at the British Colonial Hilton.

Bahamas Minister of Foreign Affairs Darren Henfield chaired the sessions comprising CARICOM foreign ministers, senior officials of the Organization of Eastern Caribbean States (OECS), senior foreign affairs and international representatives. Secretary General of CARICOM Irwin LaRocque also attended.
Minister Henfield said: "I believe that this conference was a grand success and we were able to discuss many issues of mutual interest."
He noted that some issues such as migration would require continuous dialogue via bilateral agreements.
With regards to bilateral relations, discussions were held about relations with the US, the UK, and Canada.
"The COFCOR discussed approaches that would enable the community to strengthen its relations with the US," he said.
The Minister said issues such as Brexit were also discussed, and remarked that the UK's decision to leave the European Union would present the CARICOM community with both opportunities and challenges.
He said CARICOM welcomed recent efforts by Canada to engage the community, but recognized the need for regular political dialogue between the two parties.
Other issues discussed during COFCOR included:
Interactions with Small Island Developing States (SIDS) groupings such as the Pacific Islands Forum and the Indian Ocean Commission, in order to address the unique vulnerabilities of SIDS more effectively.
Multilateral issues such as reform of the United Nations Security Council and the development of an international legally binding instrument on the conservation and sustainable use of Marine Biological Diversity of Areas Beyond National Jurisdiction.
Discussions regarding the future relations of the Community of Latin America and the Caribbean (CELAC<!– 

http://celacinternational.org/

 

 –>).
Border issue between Guyana and Venezuela and Belize and Guatemala. The Minister gave continued support to both Guyana and Belize.
Migration was also discussed. During a retreat held at the Island House, a presentation was given on the topic, 'Is Migration an Issue of concern for CARICOM?' by Louise Arbour, Special Representative of the United Nations Secretary General for International Migration.
The Minister said that the presentation was of particular interest during the conference.
It was noted that Foreign Ministers also expressed concern over the trend of equating remittances with development aid, in recognition of the former not necessarily contributing to development.
After two days of meetings, delegates enjoyed a closing reception at Government House on Tuesday evening.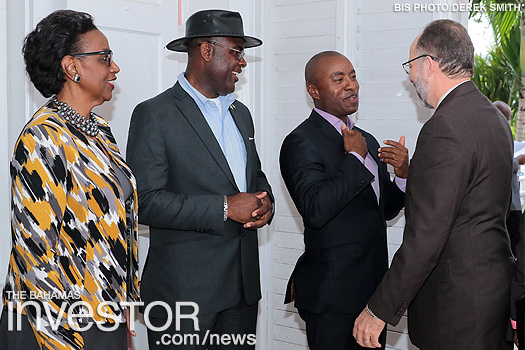 Pictured: Minister of Foreign Affairs Darren Henfield welcomes guests to the closing reception at Government House May 8. Also pictured is Permanent Secretary in the Ministry of Foreign Affairs Rhoda Jackson. (BIS Photo/Derek Smith)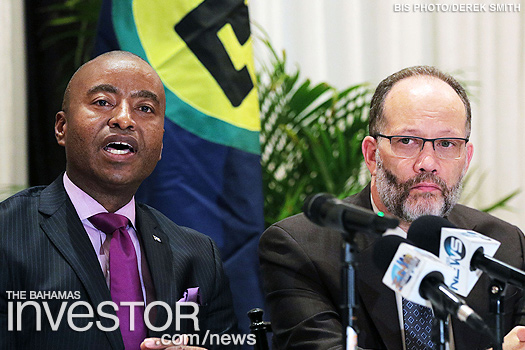 Pictured: Minister of Foreign Affairs Darren Henfield, left, speaks to members of the media at the close of the 21st meeting of the Council for Foreign and Community Relations (COFCOR) during a press conference held at the British Colonial Hilton May 8, 2018. CARICOM Secretary General Irwin LaRocque looks on. (BIS Photo/Derek Smith)