Caribbean foreign ministers met ahead of the official start of the 30th Inter-Sessional Meeting of CARICOM Heads of Government February 25, 2019 in a special meeting of the Community Council of Ministers.
Minister of Foreign Affairs Darren Henfield represented The Bahamas at the Tenth Special Meeting of the Community Council of Ministers.

The agenda centred on updates related to reform in the Caribbean Community, CARICOM's participation in Beijing Expo 2019 and negotiations for a Post-Cotonou Agreement, which seeks to renew a framework for the future partnership between the European Union and African, Caribbean and Pacific countries.
"Today's meeting was productive and provides an opportunity for CARICOM member countries to update the Community on important matters discussed at previous meetings," said Minister Henfield.
The Embassy of The Bahamas in China is the lead agency for coordinating participation in the Beijing Expo.
The Expo is scheduled for later this year under the theme "Experience the Caribbean – Many Countries – One Tropical Paradise."
Prime Minister Dr Hubert Minnis joined other Caribbean Heads of Government on Monday.
Over the next two days Caribbean leaders will discuss matters related to transportation, including air and ferry services; funding for security institutions; and challenges faced by international financial centres in the Caribbean.
Prime Minister Minnis will attend the Inter-Sessional meeting February 26, 2019.
The Prime Minister will also hold bilateral talks with the President of the Republic of Estonia Kersti Kaljulaid.
Minister Henfield will represent the Prime Minister for the remainder of the Inter-Sessional meeting, along with High Commissioner Rahming and other senior government officials.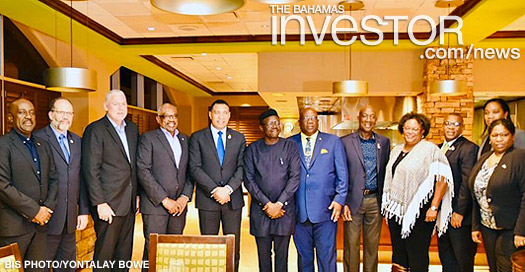 Pictured: Prime Minister Dr Hubert Minnis (fourth left) attended a dinner meeting February 25 with United Nations Conference on Trade & Development Secretary General, Mukhisa Kituyi (centre), and other CARICOM leaders in Basseterre, St. Kitts & Nevis, prior to CARICOM Inter-Sessional Meetings. (BIS Photo/Yontalay Bowe)