Prime Minister Perry Christie February 19 gave the keynote address at the opening of Freeport Insurance Agents & Brokers Ltd.
The Prime Minister congratulated Lawrence Palmer, Donald Ward and Deborah Knowles for opening their new business and added he felt the economy of Freeport will continue to get better.

Also addressing the opening was Minister for Grand Bahama Dr Michael Darville, who also congratulated the new owners, saying it was a pleasure to be there as the government was doing its part in encouraging entrepreneurial opportunities.
"This is all due to an aggressive programme that's been put in place by the Prime Minister. He is here today to be a part of this, and I understand that it is an investment of $250,000 that would have been injected into the local economy, it has created five new jobs for Grand Bahamians."
Present at the event were: Minister of Tourism Obie Wilchcombe; Minister of State for Investments Khaalis Rolle; Kevin Seymour, president of the Grand Bahama Chamber of Commerce; and Peter Turnquest, deputy leader of the Free National Movement and MP for East Grand Bahama.
Pictured: Prime Minister Perry Christie, was on hand to officially open Freeport's newest insurance brokerage, Freeport Insurance Agents & Brokers Ltd, February 19, 2015. Shown from left are: Lawrence Palmer, president; Eleanor Palmer; Deborah Knowles, sales manager; Prime Minister Christie; Yvonne Ward; and Donald Ward, vice-president. (BIS Photo/Vandyke Hepburn)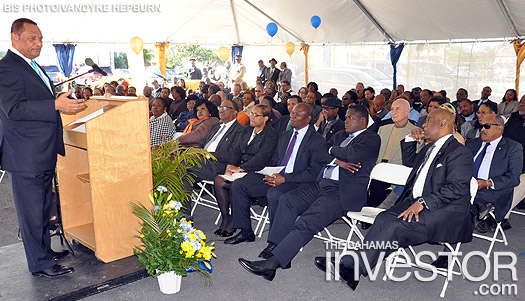 Pictured: Prime Minister Perry Christie gives the keynote address at the opening of Freeport Insurance Agents & Brokers Ltd, February 19, Grand Bahama. (BIS Photo/Vandyke Hepburn)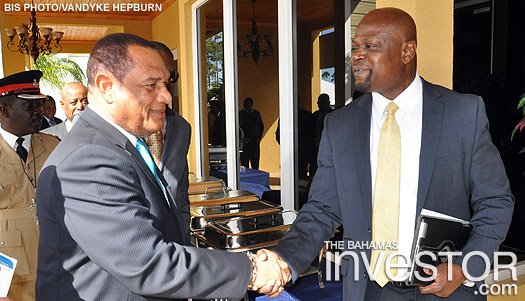 Pictured: Prime Minister Perry Christie, left, with president of Freeport Insurance Agents & Brokers Ltd Lawrence Palmer at the official opening ceremony February 19. (BIS Photo/Vandyke Hepburn)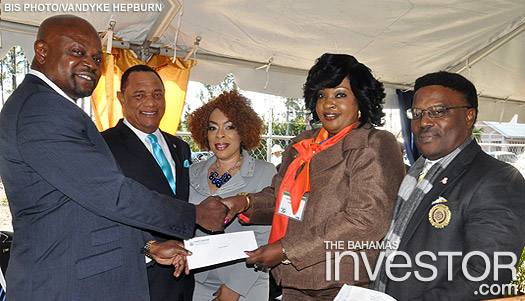 Pictured: Owners of Freeport's newest insurance brokerage, Freeport Insurance Agents & Brokers, make a presentation to Urban Renewal 2.0 during their official opening February 19. Shown from left are: Lawrence Palmer, president; PM Christie; Deborah Knowles, sales manager; Michelle Reckley, deputy director of Urban Renewal 2.0 Grand Bahama; and Donald Ward, vice-president. (BIS Photo/Vandyke Hepburn)