When the Nassau Airport Development Company (NAD) officially took over the reins of the Lynden Pindling International Airport (LPIA) in 2007, it marked the start of a $400 million investment programme that would completely overhaul the country's main airport.
The management contract for all the airport's commercial enterprises introduced a new paradigm of airport operations in the nation. Its portfolio included the full management of all terminal buildings, parking facilities and runways.

From the onset, NAD faced a mammoth task, to transform run-down terminals into what travellers would expect of a leading destination, all without shutting down the airport's daily operations.
On Saturday, April 1, NAD commemorated its 10th anniversary as operators of LPIA, now an award-winning, modern masterpiece, operating at world-class standards for safety, efficiency and passenger experience.
Over the past decade more than 30.5 million passengers from 67 domestic and international destinations have flown in and out of LPIA, according to Vernice Walkine, NAD's president and CEO.
The Bahamas' busiest gateway, the airport safely welcomed more than 3.29 million visitors, handling over 81,000 aircraft takeoffs and landings in 2016 alone.
"LPIA's success is due to strong partnership with key industry stakeholders," said Walkine at a reception held in the airport's gardens.
"Together with the Ministry of Tourism, Nassau Paradise Island Promotion Board and others, we have seen significant increases in the total number of airline's seats due to a robust air service development programme."
The airport continues to perform extremely well in the wake of its $409.5 million, three-terminal redevelopment overseen by NAD, a government-owned company that had a 10-year, private management agreement with Vantage Airport Group (formerly Vancouver Airport Services, or YVRAS).
It took four and a half years to redevelop the airport, the largest single infrastructural project undertaken by the Bahamas government.
This year, Airport Council International ranked LPIA the second best airport in the Latin America and Caribbean region. Awards are based on passengers' ratings.
"Hard to believe we have come that far in such a short period of time," said George Casey, CEO and president of Vantage Airport Group.
In his brief remarks Casey thanked government officials for placing their trust in the company.
To mark the milestone, Vantage donated to the airport an original painting by Bahamian artist Dede Brown of hundreds of vibrantly coloured fish.
"We know from experience across our airports how important it is to have a sense of place that provides an authentic first and last impression for passengers," said Casey.
"Congratulations to NAD on 10 years of making your airport and your community better."
Still, the formation of NAD and the redevelopment of the country's premier airport was always more than a construction project, said Glenys Hanna Martin, Minister of Transport and Aviation. Rather, it marked the beginning of "our national revitalization," she said.
"LPIA is centrepiece of our national expression. It provides connectivity from the centre to the islands throughout our country," said the Aviation Minister. "It facilitates our oneness as a people. This airport helps to fire up our economy and in the future we look for more airlift and an eventual regional hub in aviation."
From the day its executives were appointed, NAD's success has been "impressive," remarked Prime Minister Perry Christie, pointing to the smooth running of the airport's redevelopment, a project that finished on time and under budget, requiring "not a single penny" from the government.
In the decade since NAD took the helm, it has lifted aeronautical revenue from $26.1 million to $61.5 million, an increase of nearly 236 per cent in a period which encapsulates a global recession.
NAD also quadrupled commercial revenue, that is non-airline related fees, from $1 million a year in the 2008 fiscal year to $4.2 million in 2016, through partnerships with onsite retail food and beverages outlets.
The Prime Minister expressed his confidence in NAD's future success.
"We are entering a new era in air and cruise tourism, an era defined by market consolidation where successful destinations are increasingly reliant on creative partnerships, modernized infrastructure and strong service delivery," said Christie.
"The next 10 years for NAD will be equally if not more challenging than the first, but I have every confidence that the team at NAD will deliver on these objectives."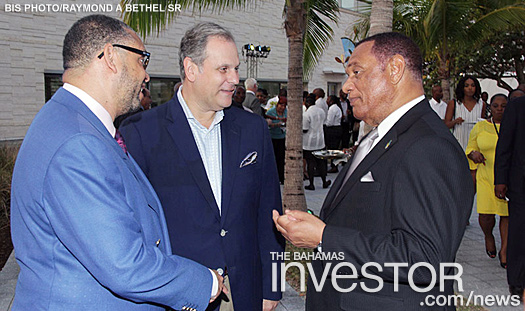 Prime Minister Perry Christie (right) chats with Baha Mar president and CEO Graeme Davis (centre) and vice-president administration and external affairs Robert Sands at Lynden Pindling International Airport, Saturday, April 1, 2017. (BIS Photo/Raymond A Bethel Sr)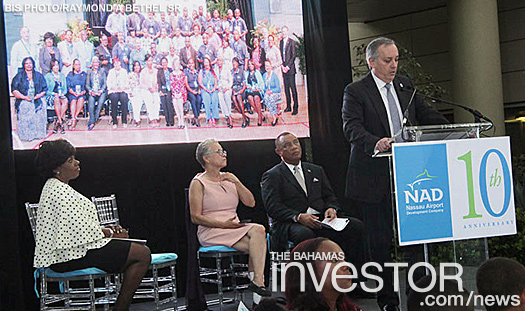 CEO and President of Vantage Airport Group George Casey addressing the reception attendees. (BIS Photo/Raymond A Bethel Sr)
tblair@dupuch.com