NewCo 2015 Ltd (NewCo), recipient of the nation's second licence for the provision of cellular and data services, announced yesterday that 20 of its 22 planned cell sites have been fully constructed on Grand Bahama and are currently undergoing commissioning and testing.
The company made the announcement during a media update event held at a central residential area in the heart of Freeport.

NewCo representatives gave members of the media and key figures in Grand Bahama's business community a detailed progress report on the construction of The Bahamas' newest mobile communications network.
"Today is an exciting time for NewCo," said CEO Damian Blackburn.
"Our teams are laser-focused on completing phase one and getting our planned world-class services active. We have to do this in record time, and I am proud to say that we are very much on our way to doing so. From the date of license issue on July 1, we fully completed our first site within 25 days, an impressive result due to a huge team effort and, I believe, a world record."
As part of the licence award, the NewCo executive noted that the company has committed to an aggressive network coverage roll-out schedule, this includes by 1 October, 99 per cent coverage on New Providence and 80 per cent coverage of Grand Bahama, within areas where people habitually reside and traverse.
This initial phase will require 22 cell sites on Grand Bahama and 51 on New Providence, a total of 73 sites across the two islands.
The company has already mobilised more than 100 people to bring the network and systems into line for activation.
Blackburn explained that construction crews have been building the cell sites and erecting the towers, while fibre splicers and network management teams have been carrying out key connectivity responsibilities.
In addition, software teams have been preparing the field and back-end systems, and administrative teams have been providing the support needed to coordinate the work.
"We have had incredible support from local and national agencies to make this happen," Blackburn said.
"Here on this island, the Grand Bahama Port Authority and Grand Bahama Development Company have played key roles in getting us to where we are today, and we want to thank them for their support. We are also very pleased with the responsiveness and assistance from the Grand Bahama Power Company in getting electricity to our sites so quickly."
Blackburn also extended special thanks to local contractors Stevenson Macintosh of Electrical Technicians, Richard Hynes of Riviere Surveys, and Wendell Carver of Carver Consultants for their critical role in facilitating the site construction process on Grand Bahama.
"We are relying on the continued support of all of the utility companies and government agencies as we work in partnership to continue to deliver in the face of our tight schedule, not only here on Grand Bahama, but also in New Providence. With this continued support, I can affirm that progress is on track to complete all the sites by the deadline," Blackburn stated.
"This new world-class mobile communications network is built on the fibre backbone foundation laid by Cable Bahamas over the last 21 years," explained the CEO.
"We know that this, combined with our new network, will help make Freeport an even better place for investment, significantly enhancing the economy and business development opportunities for this city and the island of Grand Bahama. We look forward to bringing choice, value and service to the people of The Bahamas – we are here at an actual site today so you may see for yourself that we are delivering on the commitment."
Blackburn said that the level of service that residents can expect will transform the experience for both residential and business customers.
"These services are no longer luxuries, they are essential to our personal and professional lives. We know the struggle of not having a better option for mobile communications, but that will soon be over. Our teams are fully dedicated to meeting the demands of our fellow Bahamians."
The company expressed its commitment to providing consistent updates on its progress as the work continues on Grand Bahama and New Providence.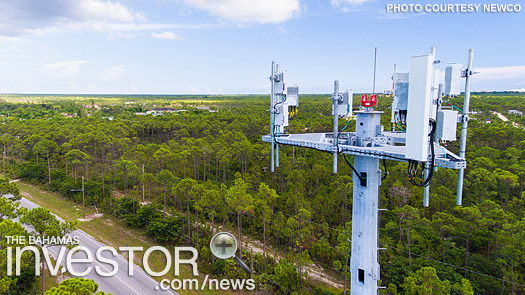 Pictured: NewCo's cell site at East Settlers on Grand Bahama. (Photo courtesy NewCo)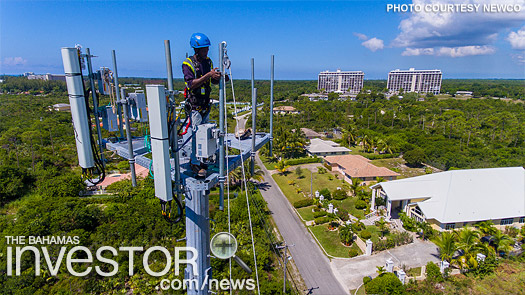 Pictured: NewCo's cell site at Greening Glade on Grand Bahama. (Photo courtesy NewCo)