Prime Minister Perry Christie said that he regards the Bahamian people as a major asset for the tourism industry.
Christie made the comment during an address at a tourism symposium for frontline tourism professionals held yesterday at SuperClubs Breezes Resort on Cable Beach.

"We in the government have to maximize use of our assets. This industry is about you. It is those in the industry who will guarantee success of the industry by being involved," the Prime Minister told the crowded room of tourism stakeholders.
The Prime Minister said that Bahamians must be aware that, with the United States ending the decades old embargo on Cuba, competition in the region's tourism market is fierce. He added that China is also a very competitive market, with more than one hundred million tourists traveling per year.
To remain competitive, he noted that the tourism product must be examined and enhanced in order for visitors to get value for what they pay for. Such areas as cultural and heritage sites such as the water tower, the forts, Clifton Heritage Park and other landmarks could be used to educate tourists about the history of The Bahamas.
The Prime Minister also mentioned that the incidents of crime must be minimized in the interest of keeping the tourism product competitive.
Minister of Tourism Obie Wilchcombe, who also addressed the symposium, underscored the importance of safeguarding the tourism product.
"Our great country depends on the work, commitment and how much we love and appreciate each other," he said.
According to the Minister, the country has come along way in its 41 years of independence, as there are many accomplished Bahamians who have broken barriers internationally such as actors Bert Williams and Sir Sidney Poitier and, in sports, NBA great Mychal Thompson and baseball's Andre Rodgers.
"Our Bahamian people have a tremendous amount of talent and we ask for your commitment to show that we are the best in The Bahamas," Wilchcombe added.
Joy Jibrilu, director general of tourism, also addressed the opening ceremony.
The symposium was held as part of the Ministry of Tourism's Golden Jubilee celebrations. In honor of the landmark, this week was declared as Tourism Awareness Week, which will culminate with the industry's Cacique Awards gala event January 24.
Presenters at the two-day symposium covered topics such as: the critical role of tourism in the Bahamian economy; remaining competitive in a global environment; and developing a strategy for service quality excellence.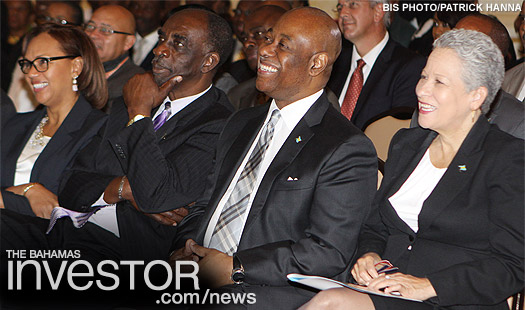 Pictured: Attending the symposium held January 21, 2015 at SuperClubs Breezes Resort are, from left: Joy Jibrilu, director general of tourism; Harrison Thompson, permanent secretary; Obie Wilchcombe, Minister of Tourism; and Glenys Hanna-Martin, Minister of Transport and Aviation. (BIS Photo/Patrick Hanna)