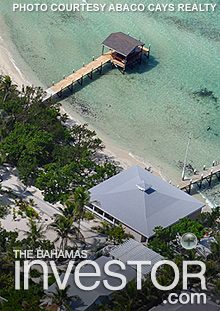 Cay Haven is on the market for $2.35 million. (Photo courtesy Abaco Cays Realty)
Abaco Cays Realty announced this week it has hit $100 million in listings with properties ranging from a modest Marsh Harbour home to an historic Hope Town cottage and a $14 million estate set on 17 acres of Man-o-War Cay.
The news comes as the firm launches a new website AbacoCays Realty.com.
"Two weeks into 2015 and there's a lot of buzz in Abaco. After several years of investors being wary because of worldwide economic uncertainty, we are beginning to see more activity, leading us to be cautiously optimistic as we look to the future," explains Paul Thompson, a former senior hospitality executive who turned to real estate development in 2006, the same year Abaco Cays Realty was founded.

The realtor's listings include Coco Bay Cottages Estate, Serenity Bluff and Sands Point, the latter at a little under $2 million, which is a 6,000 sq ft property with a 174 ft dock, workshop, fitness centre, golf cart garage and other features on its nearly 2.4 acres.
But it was listings on Man-O-War Cay that put Abaco Cays Realty over the $100 million mark.
Among them are Landfall, a property overlooking the entrance channel into Man-o-War harbor; Cay Haven, a 1.6 acre property running from the Sea of Abaco to the Atlantic Ocean with main house and a guest house; and Sea Glass Found Estate. That estate, offered at $14 million, commands the entire north end of Man-O-War.

Sea Glass Found Estate offered at $14 million. (Photo courtesy Abaco Cays Realty)