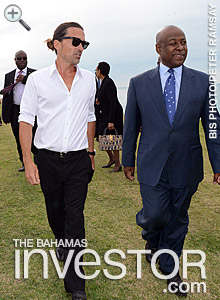 The Cove's developer, Sidney D Torres IV (left), tours the resort with Minister of Tourism, Obie Wilchcombe (right). Click the photo for expanded view. (BIS Photo/Peter Ramsay)
Minister of Tourism Obie Wilchcombe has announced that the Ministry is launching new initiatives to boost the country's tourism product.
During an interview at the grand opening of The Cove, Eleuthera, March 1, Minister Wilchcombe said that the Ministry of Tourism will unveil March 21 a digital platform that will allow potential tourists to make various bookings at one site and explore the islands of The Bahamas.
The digital platform provides a booking solution.
"The problem we have in The Bahamas is that people do not have an appreciation that we are more than just a capital city."

"So The Bahamas will now have a digital platform where you will be able to search our islands, search for the hotel you want, search for the airlift you want to get to the islands, search for rental vehicles, or whatever else you want to do. It is all free, none of the islands have to pay for it; none of the hotels have to pay for it; it is being done by the Ministry of Tourism," Minister Wilchcombe said.
"It is a way to get people to discover the islands and get them here in the quickest possible way," he added.
The Tourism Minister also said that Ministry officials will attend various trade shows and travel to countries around the world promoting the tourism products the country has to offer.
"Why go to some of the islands in the Caribbean when you can come to The Bahamas and discover all that you want?"
He said Ministry officials will travel to Brazil at the end of April for the first World Tourism Council Meeting, where around 100-150 buyers and interested parties will be represented.
"The Bahamas is right now set to become one of the most exciting tourism destinations, because we are renewing our product at the right time. Visitors will be able to go to Nassau for the glitz and the glamour and that is Baha Mar, Atlantis and others; and then they come to the Family Islands for something more intimate and get to enjoy the island flavour."
The Tourism Minister also noted that the Ministry will be promoting domestic tourism as well, with special focus on the smaller islands.
He said while there are resorts on those islands, they want to create more activities, so that they attract more Bahamian visitors.
He said the Ministry is receiving requests for additional airlift.
"Obviously you have to get people here and, with the Airport now in the final stages of reconstruction, you are going to see us cause a hub to be developed on the capital and the linkages, so you come to the capital and you can get to the islands."