Minister of Financial Services Hope Strachan has named the recipient of this year's Minister's Award, a recognition given to an individual deemed to have made outstanding contributions to the financial services sector.
The 2015 recipient is Donna Nguyen-Comito (pictured, top) of the Bahamas Financial Services Board.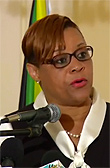 Minister Strachan (left) said she was delighted to recognize the accomplishments of an individual who has devoted so much of her professional life to The Bahamas and, over the last 17 years, to the Bahamian financial services industry in particular.
Nguyen-Comito served as executive director of the Bahamas Chamber of Commerce for over 15 years, taking that business and trade organization through significant developments.
In recent years, she has worked at the BFSB and has been involved in practically every aspect of its operations and development.
The Minister noted that she was impressed with Nguyen-Comito's commitment to BFSB and to the financial services industry as a whole.
"Donna's name really has become synonymous with both BFSB and the industry. I have heard time and time again – "Ask Donna at BFSB" when any number of questions relating to both development and promotion of the industry have come up. And, suffice it to say, she always knows the answer. Her dedication and passion for the industry is unparalleled."
In expressing appreciation to Minister Strachan for what she says is a tremendous honour, Nguyen-Comito said: "I was in the right place at the right time to contribute to the development of The Bahamas as an international financial centre; if I have done that in my own small way, I am well pleased."