The Bahamas Financial Services Board (BFSB) and the Insurance Commission of The Bahamas (ICB) have announced that the Selection Committee has decided on the recipients for the two scholarships they provide for the Associates in Captive Insurance (ACI) designation, offered by the International Center for Captive Insurance Education (ICCIE).

The scholarship initiative was launched in 2013, in collaboration with the Bahamas Insurance Association (BIA) and the Insurance Institute of The Bahamas (IIB), both of which also serve on the Selection Committee.
BFSB chief executive officer Aliya Allen says they selected this programme because it was strongly supported by industry and also because of its stated mission: "to be the premier provider of captive insurance education and to offer the pre-eminent professional designation in captive insurance."
Designation students complete a comprehensive captive insurance education programme–including ICCIE's own proprietary curriculum and testing–in order to earn the ACI professional designation.
The recipients for 2015 are Rashanna Ingrid Thompson, an account executive at RMS Insurance Agents & Brokers Ltd; and Yolanda G Moss, an account executive at JS Johnson & Co Ltd.
Allen explains that one of the criteria the Selection Committee looked at in particular was the track record of applicants in terms of their dedication to enhancing their skills sets through ongoing professional development.
Additionally, consideration was given to employment history within the sector, as well as to personal statements by the applicants on why they were pursuing the scholarship. Both of these applicants impressed the committee with their perceived and planned role in the development of the captives sector and the financial services industry as a whole.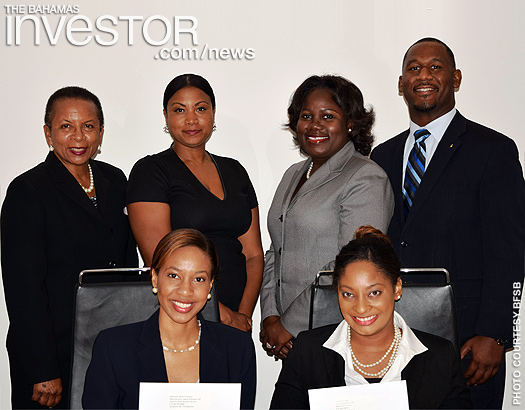 Pictured: (seated) Recipients Rashanna Thompson and Yolanda Moss; (standing, from left) Dr Rhonda Chipman-Johnson, coordinator of the Bahamas Insurance Association BIA; Aliya Allen, CEO, BFSB; Yvette Ingraham, president of the Insurance Institute of The Bahamas (IIB); and Carl Culmer, analyst (ICB). Selection Committee member not pictured is Donna Nguyen-Comito, senior consultant at BFSB. (Photo courtesy BFSB)