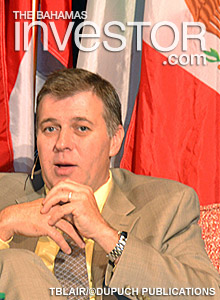 One of the most recognized names in the tourism and hospitality industry, Hilton Hotels, says it is looking to further invest in the brand globally.
Danny Hughes (right), vice president of the Caribbean/Mexico/Latin American region for Hilton Hotels Corp says 60 per cent of the hotel's new developments under contract and under construction are outside the United States.
Hughes made the comments during a panel session at the 16th annual Caribbean Hotel and Tourism Investment Conference (CHTIC) held in San Juan, Puerto Rico, last week.
The Hilton brand, according to Hughes, is growing "rapidly" in China and "selectively" in Europe.

"While our vision is to be capital light and participate with developers to build our brands, distribution channels and management expertise, in selective regions where we see real strategic opportunities, we are not afraid to put our own money down, develop and build," said Hughes.
In the Caribbean region, Hughes sees a great opportunity to expand across multiple brands. The Hilton has ten brands and more than 3,800 hotels worldwide.
"It's a good time to be part of Hilton worldwide," added Hughes. "We've got great sponsors, some deep pockets for the right investment and we are looking to grow our portfolio throughout the region rapidly."
tblair@dupuch.com