San Juan, Puerto Rico – It is time for all Caribbean governments to wake up to the need to support intra-regional airlift, according to regional tourism officials.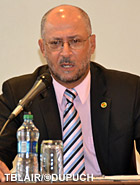 "There is nothing wrong with subsidizing. We just do not like the word," said Ricky Skerritt (right) Minister of Tourism for St Kitts and the chairman of the Caribbean Tourism Organization (CTO). "It is [still] investing in regional airlift."
The remarks were made during the 16th annual Caribbean Hotel and Tourism Investment Conference (CHTIC) held in San Juan, Puerto Rico last month.
CHTIC is a forum that provides delegates with the latest statistics, analysis, predictions and projections for the Caribbean's tourism industry.
According to Skerritt, Caribbean leaders must put their heads together and formulate a plan–one that would help regional carriers operate in an affordable and efficient manner.

"If that means Caribbean governments have to incentivize, invest, subsidize, whatever you call it, we have to do it," he said.
Intra-Caribbean tourism once represented 13 per cent of the region's tourism.
Skerritt said that CTO's role will be to open the dialogue, establishing closer contact with some key players in hopes of tapping into the Caribbean intra-regional travel market. The region has a population of 40 million.
In April, the Tourism Minister met with Minister of Transport for Trinidad and Tobago Devant Mahara and high-ranking officials of the Trinidad and Tobago-based Caribbean Airlines, a regional carrier that serves 16 markets in the Caribbean, South America and North America, operating a core schedule of 530 weekly departures with a fleet of 21 aircraft.
"I was very encouraged with what I heard in terms of their vision for the Caribbean and for Caribbean Airlines," said Skeritt, who admits that regional air travel is a difficult and complication issue, but still has to be tackled.
"We cannot set it aside. It is critical to the growth of Caribbean tourism," said the CTO chairman. Regional travellers represent anywhere from 10 to 35 per cent of travel among various Caribbean destinations.
"There is no Caribbean government anywhere that can ignore the difficulties that face airlift in the region," said Skerritt. "What we are saying at the CTO is that all Caribbean governments need to create a forum that can really bring these issues to the table. It is my hope that over the next few months there will be certain opportunities that will be used."
In 2006, the Caribbean had three carriers providing intra-Caribbean service. That year intra-Caribbean numers peaked at 1.6 million visitors traveling regionally between the islands. By 2010 that number had plummeted to 500,000.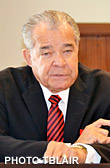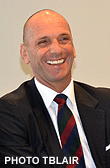 "In those few years we lost 1.1 million intra-Caribbean travelers," said Alec Sanguinetti (left), director general and Chief Executive Officer of the Caribbean Hotel and Tourism Association (CHTA).
"That's a big market and we are not taking care of it," said Josef Forstmayr (right), president of the CHTA.
In 2007, Ministers of Civil Aviation in the Caribbean and other tourism and travel officials drafted the San Juan Accord, which called for regional officials to put in place the policy framework that would make intra-Caribbean travel for airlines less expensive and more competitive in terms of attracting investment.
However, the document is still sitting on the shelf.
Said Sanguinetti: "The problem is we have not implemented what we ourselves agree needs to be done."
tblair@dupuch.com
Get TheBahamasInvestor.com's exclusive highlights from the 16th annual Caribbean Hotel and Tourism Investment Conference here.
May 3rd 2012

May 1st 2012

April 27th 2012

April 26th 2012

April 2nd 2012