Developers of the ultra-luxury residential Thirty Six condo complex on Paradise Island have said the project is on target in sales and slightly ahead of schedule in construction.

"We are extremely satisfied both with the progress of the infrastructural development, particularly in light of Hurricane Matthew, and with the interest from prospective buyers which continues to be very strong," says Jason Kinsale, Aristo Development president and CEO.
Aristo is partnering with financial services provider Sterling Global Financial, specialists in real estate and property development funding.
"Thirty Six appealed to us when the plans were first presented," said Sterling global chairman and CEO David Kosoy.
"We were impressed by a combination of factors – the developer's track record being one of the most important."
Aristo designed and built the Balmoral residential community in the heart of Nassau and is nearing completion of One Cable Beach, a luxury high-rise on the oceanfront with penthouse units selling for upwards of $4 million.
At Thirty Six, prices range from $495,000 for junior one-bedroom, to $975,000 for two-bedroom residences, and $1,075,000 to $1,250,000 for two-bedroom penthouse with the higher priced one featuring a generous roof top terrace and panoramic views of Nassau Harbour.
For Minister of Investments Khaalis Rolle, who recently toured the property, the project was a "clear demonstration that local expertise and funding are important contributors to quality construction projects and to the Bahamian economy as a whole."
"This is the type of vision being brought to life that allows us to disabuse people of the belief that everything we do is about foreign investment. There are tremendous strides being made by local companies like Sterling, which is international but chooses to have its headquarters in The Bahamas, and Aristo which had an excellent track record of quality real estate development."
Thirty Six is slated for a Spring 2018 completion. Baker Construction is participating in project development along with Aristo.
According to sales and marketing director Matthew Marco, pre-completion sales are brisk with interest from Bahamians, Europeans, Canadians and Americans.
"Paradise Island is renowned for having some of the world's most sought after real estate with top business executives, elite athletes and Hollywood celebrities calling the island home. Even if someone has never been to The Bahamas, they have heard of Paradise Island and want to be here."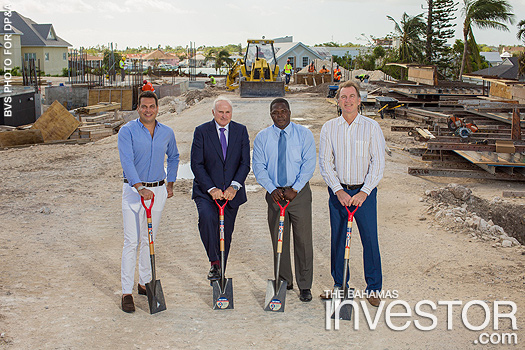 Pictured: (from left) Aristo Development Sales & Marketing Director Matthew Marco; Sterling Global Financial chairman & CEO David Kosoy; Minister Rolle; and Sterling president Stephen Tiller. (BVS photo for DP&A)