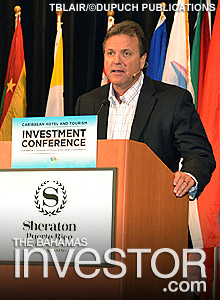 San Juan, Puerto Rico–Establishing government development banks in the Caribbean could help kick start major tourism projects in the region, according to a leading developer.
"Obviously there is a lack of capital in the region. Banks are unable or unwilling to lend. [There is] really a lack of institutional capital and really a lack of proper incentives to incentivize developers to take the risk," said Adam "Buddy" Petrillo (right), executive vice president of Trident Development.
Trident is a subsidiary of Hill International (NYSE: HIL), one of the largest project management firms in the world. Trident focuses on port development, hospitality and alternative energy systems in the US, Caribbean and South America.

"I actually challenge governments and the private sector to work together to see if they can form government development banks, whether it's a combination of private capital and government guarantees."
Petrillo's comments came last week at the 16th annual Caribbean Hotel and Tourism Investment Conference (CHTIC). He was a participant in a discussion titled: From an investor's perspective.
The session kicked off day two of the conference organized by the Caribbean Hotel and Tourism Association (CHTA) and the Caribbean Tourism Organization (CTO). CHTIC is designed to provide delegates with the latest statistics, analysis, predictions and projections for the Caribbean's tourism industry.
"Capital flows like water and seeks the path of least resistance," said Petrillo. "In the Caribbean today there are some dams in the river."
Throughout various sessions, conference delegates heard how traditional sources of Wall Street capital have dried up.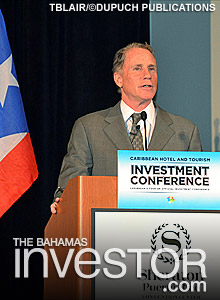 Banks are not interested in risky projects and there's difficulty finding equity sources, particularly for projects of major scope and complexity.
"I think we've seen from the insight on our panel that there is not one answer, one financing source, one way to structure a project," said panel moderator, Jay DiGulio (right), co-founder of Boutique Club International LLC, with offices in New York City. As the president of Boutique Club, he is currently working on several mixed use projects, shared ownership and private residence club projects in the Caribbean and New York.
"In today's environment it takes a lot of thought; a lot of creativity; looking at mixed use. How does real estate and hospitality blend together? [And look] at shared ownership as opportunities to fuel additional returns."
tblair@dupuch.com