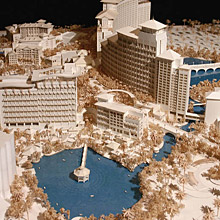 The $3.5 billion Baha Mar Resort is the largest project under development in the western hemisphere.

Orlando, FL. (PRWEB) October 09, 2012 – The islands of the Bahamas are rapidly emerging as the new frontier for real estate development, according to Kevin Dickenson, a Palm Beach Realtor. China struck a deal to build and finance the largest resort in the Western hemisphere at $3.5 billion and announced it will pump $6.3 billion into Caribbean governments. Resort developers and celebrities are acquiring the finest Bahamas real estate.
China is busy acquiring and developing Bahamas real estate, according to Kevin Dickenson of Prudential Florida Realty. The islands of the Bahamas are an increasingly popular destination for Floridians because you can jump in your yacht on Palm Beach at sunrise and tie up at West End for lunch or take a plane if you want to land in paradise within the hour. The islands are famous for miles of secluded pink sand beaches that entice fisherman, mega yacht owners, sunbathers, scuba divers and Sports Illustrated swimsuit models alike.

At the end of 2011, China announced that it would lend $6.3 billion to Caribbean governments. As a reward for breaking ties with Taiwan in 1997, the Chinese government gave the Bahamas a new $35 million stadium that opened a few months ago. In addition, a Chinese state bank agreed to put up $41M for a new port, a bridge and a new Chinese Embassy in downtown Nassau.
For comparison, buyers from China and Hong Kong accounted for $9 billion of U.S. homes sales in 2011, up 89% from 2010, making them the second largest group of foreign buyers in the U.S. behind Canadians, according to data from the National Association of Realtors. To attract foreign investors, the U.S. government established the EB-5 Visa program that provides a green card in return for a $500,000 investment.
In 2008, Harrah's Entertainment, Inc., pulled out of the Baha Mar Resort in Nassau, and in 2011, the Chinese struck a deal to finance and build the project. The $3.5 billion resort, financed by the Export-Import Bank of China, is currently the largest project under development in the Western Hemisphere and includes a hotel, casino and resort. The ground breaking ceremony was February 21, 2011, and the project should be completed by late 2014.
According to the Hurun Wealth Report 2012, China has 1.02 million individuals with personal wealth of $1.5 million dollars and 63,500 individuals with personal wealth of $15 million dollars. More than 60% have already emigrated or have plans to do so in the near future, and the most favored destinations are the U.S. and Canada. They invest mainly in overseas real estate and 30% plan to purchase in the next three years.
China's Vice Premier Wang Qishan said bilateral trade between China and The Bahamas increased almost 50 percent from 2010 to 2011, reaching $630 million. Several analysts in the Caribbean believe that China will eventually emerge as a political force in the region.
U.S. developers are also extremely active in the Bahamas. On Cat Island, PGA Village and the Cat Island Golf and Beach Resort are scheduled to open at the end of 2014. This 1,906-acre oceanfront resort is the first of its kind outside of the United States. According to a story in USA Today, the plans include two 18-hole championship golf courses, The PGA Clubhouse, a full-service beach club, single-family residential home sites, village townhomes, an apartment complex and a boutique five-star hotel & spa.
Kevin Dickenson, a Palm Beach real estate broker associate recently listed 250 acres of raw land with a 100 slip mega yacht marina and a 3,000 foot private air strip on Cat Island. The 40 mile long island is located a few miles east of David Copperfield's exclusive Musha Cay resort. A comprehensive study conducted by Ernst & Young suggests a mixed use development with single family homes, condos, fractional ownership units and a commercial component.
"This could also be an incredible site for a boutique resort that caters to mega yachts and sport fisherman," Dickenson said. The number of mega yachts produced annually increased 450% between 1992 and 2006 and there are over 1500 mega yachts cruising Florida and the Bahamas annually, according to a study conducted by Applied Technology and Management, Inc.
"I'm excited about this property because there is a lot of investor activity in the Bahamas and now I have a good excuse to spend a weekend in paradise," Dickenson said. Please visit www.kevindickenson.com to view this unique real estate offering.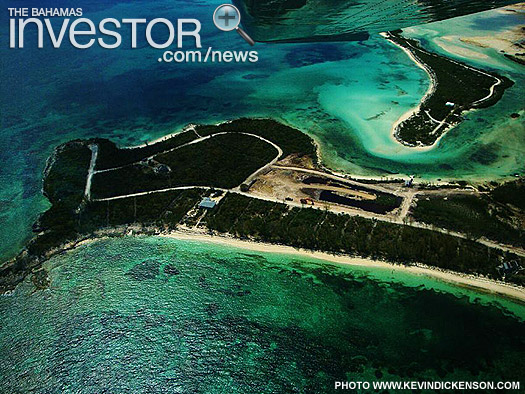 Cat Island 250 Acres + Mega Yacht Marina for Sale. (Photo www.kevindickenson.com)