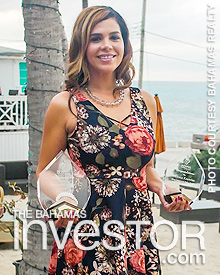 Pictured: Local realtor and Bahamas Realty's top producer for 2016, Monica Knowles. (Photo courtesy Bahamas Realty)
High-net-worth individuals are not interested simply in grand homes anymore when looking to buy property in The Bahamas; they want the "all-around package", says local realtor.
HNWIs searching for homes in The Bahamas are seeking a "place to play", says Bahamas Realty's top producer for 2016 Monica Knowles.
"A decade ago, high-net-worth clients wanted to know how many bedrooms and baths in the house. They would ask about a great room, the height of ceilings, how many people the formal dining room could seat. It was about size and show," said Knowles.

That same buyer today is more likely to want to know about amenities and activities such as boating, golf, tennis, fitness centre, spa, jogging trails, cycling, boat charters and marinas, she says.
"The high-net-worth client today wants an all-around package," adds Knowles. "They want a sense of privacy, but they also want a place to play. It is almost an upscale playground mentality for the discerning. They truly appreciate the beauty of the islands and they are interested in what activities they can enjoy immediately."
"People want to know that their assets are safe," she says. "They want personal and property security. That is first for every buyer. Because of our location and our stable government, we will continue to attract people as a safe haven."
"Now that we are beginning to see a rebound from the recession of 2008 and 2009, and given the fact that The Bahamas continues to tick all the boxes of what the luxury market seeks, we have every reason to believe that the future holds great promise."