Palm Cay's new executive and operations team unveiled plans for the upscale $200-million, 69-acre residential community at the eastern end of New Providence March 28.
The four-year plan includes the largest inland marina in The Bahamas and other amenities.

The executive team recently concluded a $1.52-million beach engineering project, with the 1,200 ft of white sand protected in three half moon coves to guard against erosion.
"We are here tonight to introduce you to the new Palm Cay," said sales and marketing director Zachary Bonczek addressing residents.
"At the end of this meeting, when you walk away from this clubhouse, we want you to be as excited as we are about building a community that maximizes the true potential of this place."
Along with introducing a new team and a host of local professional firms, Bonczek led owners of home sites, townhomes and single family residences through the year-by-year schedule of construction plans.
By the time the project is fully built, sold out and turned over to a homeowners association 2017, it will include a 194-slip marina with fuel dock and other amenities, 1400 ft of beach, a beach club, fitness centre, three acres of parks and recreation, tennis courts, a restaurant that seats around 160, a gourmet market and deli, small boutique marina condo hotel and an array of residential choices ranging from a home site starting at $155,303 to a beachfront townhome priced between $499,000 and $850,000.
Condos will range from $350,000 to $375,000.
"This was the first real home owners' and property owners' meeting," said Bonczek after the meeting. "I think there was a real feeling of excitement."
The first major change will be the clubhouse. Plans have already been submitted to transform it into a restaurant and executives say they hope it will be operational within months.
The development lies to the south of the extreme eastern end of New Providence and is home to the closest marina to Exuma, as well as the largest marina on the island in number of slips.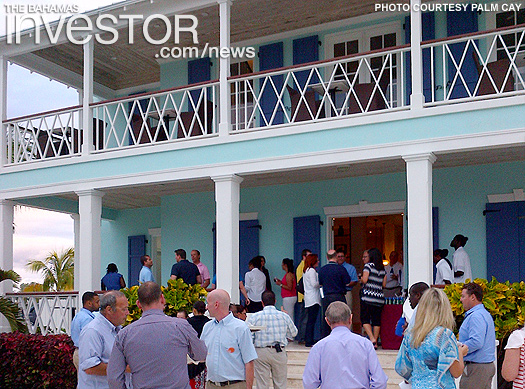 Residents and property owners at the upscale Palm Cay community in eastern New Providence mingled before the first homeowners annual general meeting last week. (Photo courtesy Palm Cay)