Source:
Date:
Updated:

Belfast Telegraph
Monday, October 29, 2012
Monday, October 29, 2012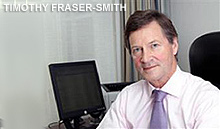 Saturday, 27 October 2012 (Belfast Telegraph) — A British investment bank boss was killed trying to repair a window shutter as Hurricane Sandy raged through the Bahamas, it has emerged.
Timothy Fraser-Smith, 66, chief executive of Deltec Bank & Trust since 2000, fell from the roof of his home in wealthy Lyford Cay late on Thursday, police said.
Mr Fraser-Smith's death was one of 43 across the Caribbean.
He joined Deltec in June 2000 as chief executive, the company's website said.
Mr Fraser-Smith had joined Grindlays Bank, London in 1972 and since worked in a variety of corporate banking functions across the world, including Lebanon, Pakistan, Greece, New York and Hong Kong.

In 1984 ANZ acquired Grindlays and Mr Fraser-Smith moved to Switzerland to head private banking activity there, before further stints in London and again in Switzerland.
Deltec said he studied law at the University of Edinburgh before gaining an MBA from Cranfield Business School.
A spokeswoman for the Foreign Office said: "We can confirm the death of a British national in the Bahamas on October 25."
Hurricane Sandy has now spun away from the Bahamas, churning northward towards the US East Coast, where it threatens to join with winter weather fronts to create a superstorm.
The Category 1 hurricane toppled lampposts, flooded roads and tore off tree branches as it spun through Cat Island and Eleuthera in the scattered Bahamas archipelago.
This is an excerpt from Belfast Telegraph as it appeared on October 29, 2012. For updates or to read the current version of this post in its entirety, please click here.

Continue reading this post >