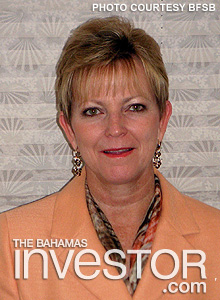 The Bahamas Financial Services Board (BFSB) has announced that Betty Roberts has been selected as the Recipient for the 2015 Lifetime Achievement Award for outstanding, sustained contribution to the industry.
BFSB CEO Aliya Allen says: "This role model for women in the industry has always demonstrated her commitment to the sustainability of the financial services sector, no matter what hat she has been wearing at any given time. She has been an Ambassador of the industry and has taken time to give back to the sector and to the business community at large, while retaining a self-effacing persona that belies the giant of a woman that she is."
In 2001 when BFSB introduced its FSI Excellence Awards programme, Roberts was the very first Executive of the Year, with peers and BFSB singling her out in recognition of her outstanding contributions to the financial services industry.

She says: "The pace of change in the industry today is greater than any other time of my career in financial services. It is not a season for the faint hearted but I am encouraged by the tremendous talent that we have available in the younger generation of Bahamians involved in the sector. I would like to encourage these participants to be resilient, creative and adaptable. Never quit learning and opportunities will ever be present".
The selection is part of the annual FSI Excellence Awards programme, when BFSB recognises industry practitioners in the categories of Executive of the Year, Mentor of the Year, Professional of the Year, and Achiever of the Year. Also recognised at the annual Awards Gala Dinner is the Student of the Year, chosen from College of The Bahamas Graduates.
The Awards Dinner this year will be held on November 20, in the Grand Ballroom at Atlantis, Paradise Island.