A delegation from The Bahamas attended the World Captive Forum in Florida last week, with CEO of the Bahamas Financial Services Board (BFSB) Tanya McCartney saying the event is an important part of the BFSB's efforts to promote and grow the country's captive insurance sector.

This was the first year the BFSB has attended the conference, which is one of the largest of its kind in the world. The BFSB delegation included representatives from law firm Graham Thompson, Long Cay Captive Management and the Insurance Commission of The Bahamas.
"It went well," says McCartney. "Captives is a growth area. There is a renewed interest in the product."
The six person delegation exhibited at the Forum, which ran January 31-February 3 in Boca Raton and celebrated its 25th anniversary this year.
The BFSB also plans to attend the Captive Insurance Companies Association Conference in Arizona next month, as well as the Risk Management Society Annual Conference and Exhibition held in California in April. McCartney believes events like these are crucial for The Bahamas, giving the jurisdiction an opportunity to be visible and responsive to clients needs.
"There is nothing like face-to-face contact to build relationships. You are dealing with high-net-worth individuals and they want to see and get to know who they are doing business with. Financial services is all about relationship management and that comes from getting to know people and spending time with them."
"Meeting one-on-one builds trust and confidence."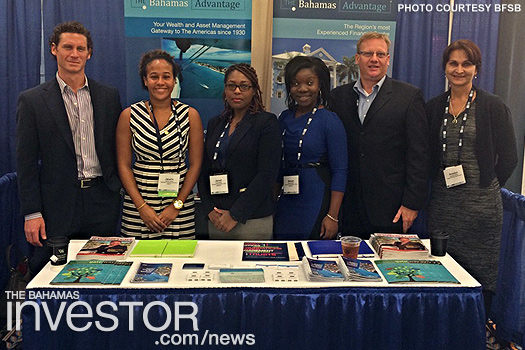 Pictured: (from left) Joe Ziolkowski (Long Cay Captive Management), Janelle Sands (BFSB), Jamell Bodie (ICB), Sinead Bethel (ICB), Ryan Pinder (Graham Thompson) and Rosalyn Brown (Cotswold Financial Services).
cmorris@dupuch.com