Source:
Date:
Updated:

Caribbean Journal
Tuesday, September 10, 2013
Tuesday, September 10, 2013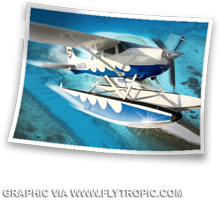 Fort Lauderdale-based Tropic Ocean Airways has announced the addition of a new eight-passenger Cessna 206 seaplane.
The company offers scheduled seaplane flights to Bimini four times a week and charters every day of the week to anywhere in the Bahamas, the Florida Keys and Florida.
Bimini is about a 30-minute flight from South Florida.
Tropic Ocean launched the seaplane service in 2012, and is the only US-based seaplane carrier authorized by the Bahamian government to service the North Bimini Seaplane Base.

That had previously been operated by the now-defunct Chalk's International Airline, another seaplane service.
"Additional airlift into Bimini is always positive news," said MichaelWeber, General Manager for the 51-room Bimini Big Game Club Resort and Marina, located in Alice Town. "Sixty percent of our guests arrive by air, and to come by seaplane is growing in popularity. It¹s a great way to see the island and certainly adds to the overall island adventure."
More: Caribbean Journal.