Executives from the hotels at Baha Mar–The Baha Mar Casino & Hotel, The Grand Hyatt, The Mondrian and The Rosewood–recently met with the Minister of Tourism Obie Wilchcombe and representatives from the Ministry of Tourism.
In a collaborative initiative to grow tourism in The Bahamas, the group discussed the appeal of each hotel brand and possibilities to dovetail the extensive global experience of the executive team with Ministry of Tourism activities.

"I am delighted to meet the new general managers for the four Baha Mar properties and to have my senior team work in close partnership with them to meet our mutual objective of invigorating the tourism sector such that will cause the world to sit up and take note," said the Tourism Minister.
Robert Sands, senior vice president, administration and external affairs at Baha Mar commented: "This is an exciting time for The Bahamas. Baha Mar and our brand partners are proud to work with the Ministry of Tourism and to promote the Bahamas as a must-visit tourist destination."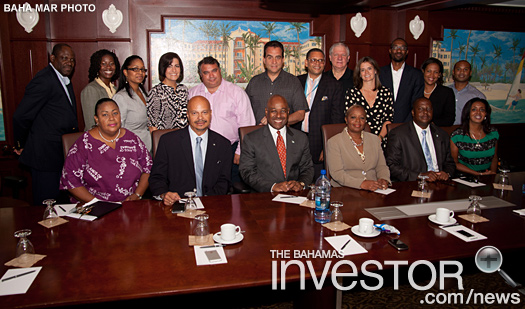 Pictured: (from left) Ingrid Bartlett, GM Groups; Ellison "Tommy" Thompson, deputy director general; Obie Wilchcombe, Minister of Tourism; Geneva Cooper; senior director global communications, Don Cornish; director product development, Nikki Simmons; director on-shore communications. Missing from the photo is Janet Johnson, director maritime tourism. (Baha Mar photo)